Best tools for Online teachers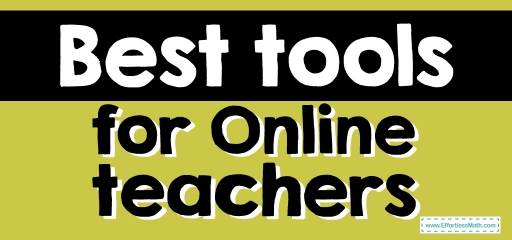 It can feel nearly difficult to be organized while teaching when there are a million and one things to accomplish at all times.
It might be tough to remember the day of the week, and what class is next, with last-minute cover lessons, remote teaching tech issues, and unexpected parent-teacher meetings.
We've put up a list of the top 9 free online teaching tools and software to help you stay on top of your game.
Quizizz is a free online learning game site that is incredibly easy to use. The tool has millions of pre-made games on just about any topic that are fun activities for reinforcement and formative assessment.
Recently, the update features a simplified Nearpod-like feature called student-paced "Lessons" for those of you familiar with that popular tool.
Create educational visualizations and infographics for the classroom with this fantastic, free graphic design tool.
It's user-friendly, and both novices and experts enjoy it. We guarantee you'll become addicted.
Your prayers have been answered. Large files may be quickly shared with coworkers, allowing you to keep your ideas flowing.
It's completely free, and you don't even need to make an account to use it. All you need is to upload your files and enter the recipient's email address.
Teacheroo is a dedicated, welcoming area where teachers worldwide can interact, share ideas, and access thousands of free resources.
From your Teacheroo profile, you may share content, blog, and stream live videos.
Join groups and get personalized news, tips, and insights delivered right to your inbox by searching, following, and chatting with like-minded educators.
Pixlr is a free online photo editor that lets you design, create, and edit photos and images. Pixlr for Education is currently delivering a free enhanced edition of Pixlr to teachers and educators.
Calendly, a free calendar-booking app, allows you to keep track of who you're meeting and when.
Calendly syncs with your calendar, ensuring that you are never double-booked – a godsend for teachers – and saving you time when scheduling parent-teacher conferences or meetings with coworkers.
There is no such thing as an island teacher; join Edmodo's global education network today to interact with other educators and students.
To deliver a more customized and meaningful learning experience for you and your students, collaborate in groups, administrate and supply instructional materials, monitor student achievement, and connect with parents.
ClassDojo is a free school communication tool that teachers, students, and parents may use every day to develop close-knit communities by sharing events in the classroom through home images, videos, and notes. It's a favorite among teachers. Parents can keep track of their children's growth, and kids can show off what they've learned.
There's also a free class behavior management system with a slew of extra features for teachers. Check out this free beginner's guide for teachers to understand more about what ClassDojo can do for you.
Schoology is an award-winning learning management system that lets teachers construct a private social network for their students, parents, and coworkers.
Manage your classroom, communicate with families and kids, and cooperate with coworkers, among other things.
Seesaw is a simple solution for convenient parent communication and a student-driven digital portfolio.
Seesaw is a perfect resource for teachers and students to share their work with others in a smooth manner, and it's great for keeping everyone informed.
Related to This Article