Best Calculators for College Students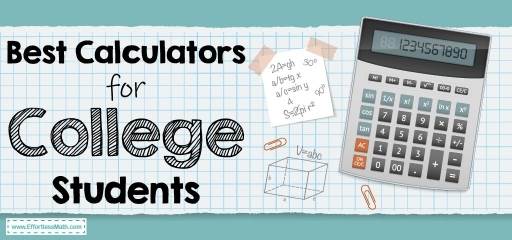 As you know, calculators are an essential tool for many college students. Some college students need to do complex calculations that require them to use the right calculator. In this article, we review the best calculators and their advantages and disadvantages to help college students choose the right calculator.
3- TI-36X Pro
4- Casio FX-991EX
5- TI-30XS MultiView
The Absolute Best Book for the Algebra I
Texas Instruments TI-Nspire CX II CAS Color Graphing Calculator
It is safe to say that the TI-Nspire CX II CAS is a top calculator of the Texas Instruments brand. It has a rechargeable battery that can last up to 2 weeks on a full charge and this is an amazing feature. Few calculators can be found that, like the TI-Nspire CX II CAS, allow users to choose from 15 colors for their graphs with six different graph styles. This device can show several equations at the same time and draw different graphs and tables. Its thin design and lightweight make this device easy to carry. The TI-Nspire CX II CAS is a great calculator that you should not hesitate to choose.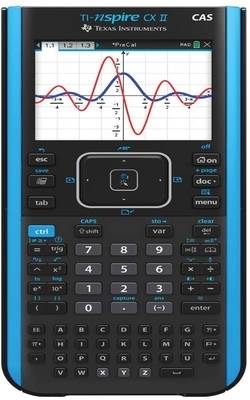 Pros:
Rechargeable battery
Computer Algebra System (CAS)
Handheld-Software Bundle
Color-coded screen
Thin Design and lightweight
Easy touchpad navigation
Quick alpha keys
Six different graph styles
15 colors to select
Easier-to-read graphics
Cons:
It's expensive
Complex device to use
Texas Instruments TI-84 Plus CE Color Graphing Calculator
The TI-84 Plus CE is a popular choice among college students. One reason is that this device is full of pre-programmed functions. It also has a large full-color, high-resolution display. Another reason for its widespread popularity among students is that it has been approved for use in many important exams including ACT, PSAT, and SAT. Other advantages of this device include having a rechargeable battery, the ability to display multiple linear equations simultaneously, and having a detailed menu with easy navigation. It also has 3MB FLASH ROM memory so you can archive data and applications. The TI-84 Plus CE with its sturdy structure and beautiful and light design has now become the first choice of many college students.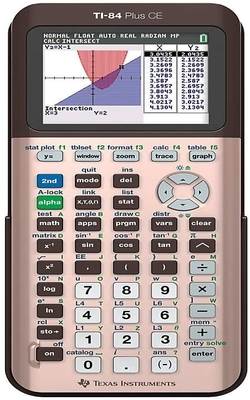 Pros:
Trusted and widely used by SAT students
Comprehensive functionality
Allowed in SAT and ACT
Thoughtful design
Easy to work with
Has a decimal to fraction converter
Cons:
Compared to the TI-Nspire series, it has fewer complex functional features
Prices vary according to color
Texas Instruments TI-36X Pro Engineering/Scientific Calculator
The TI-36X Pro offers a variety of advanced functions and can meet many of the computing needs of college students. This device is ideal for those curricula where graphing technology may not be allowed. Its display is MultiView, which allows you to see multiple calculations simultaneously on the screen. It is designed to meet the computational needs of students in the fields of Algebra 1 & 2, Geometry, Trigonometry, Statistics, Calculus, Biology. In general, the TI-36X Pro is suitable for students of all levels and can solve many complex problems in math and high-level science.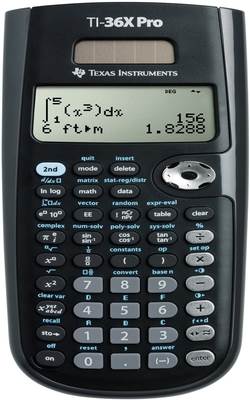 Pros:
Four-line display
MultiView display
MathPrint™ feature
Ideal for students at every level
Approved for use SAT, ACT, and Ap exams
Reasonable Price
Cons:
It may be difficult for some to use
Buttons are really small
Casio FX-991EX Engineering/Scientific Calculator
Casio FX-991EX has all the features of a good scientific calculator. It has a high-resolution LCD screen that can display more information all at once. With the Online Visualization Service feature, the calculator generates a QR code. By scanning this code, you can immediately see a graphical representation of your data. 2-way power assures you that the device will be ready for safe operation anywhere. This calculator is great for calculations related to basic math, Calculus, Algebra, Geometry, Probability, and Statistics. The Casio FX-991EX is a great choice for students who need a high-performance professional device.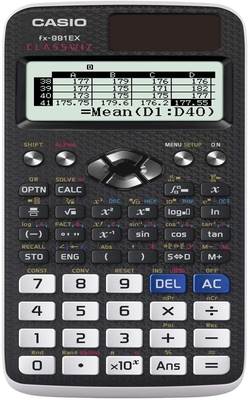 Pros:
High-resolution LCD
Advanced calculations
Online Visualization Service
2-way power
High-performance device
Affordable Price
Cons:
Numbers are displayed in tiny font, which is hard to read
Some important functions are missing: LCM, GCD, Remainder division, Recurring decimals, and Product calculation
Texas Instruments TI-30XS MultiView Scientific Calculator
The TI-30XS MultiView with its beautiful design and unique features can be a smart choice for college students. Another feature that makes this calculator awesome is that it works both on batteries and solar power. This device is easy to use and has big buttons and a display of a decent size. This scientific calculator is approved for use in exams GED, SAT, ACT, and AP. This device is suitable for solving problems related to Algebra 1 & 2, calculus, matrices, logarithms, trigonometric functions, fractional functions, geometry, and statistics. The TI-30XS MultiView is one of the most cost-effective advanced calculators available on Amazon.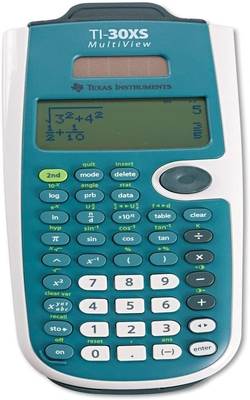 Pros:
Four-line display
Easy-to-use device
MathPrint™ feature
Fraction/decimal conversion
Solar and battery-powered
Approved for use GED, SAT, ACT, and AP exams
Cons:
Sometimes gives random and incorrect answers
Now you have taken an important step in getting acquainted with the best calculators for college students. We are sure that by receiving the information mentioned in this article, you will not have a problem choosing the calculator you want. Remember that all the introduced items are great and it is you who determines the superiority of one of them based on your needs.
The Best Books to Ace the Algebra 2
Related to This Article