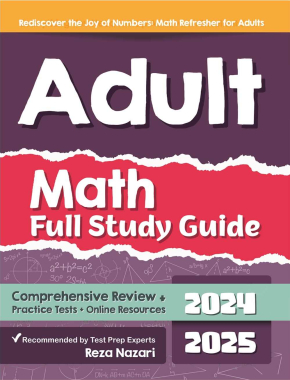 Adult Math Full Study Guide
Comprehensive Review + Practice Tests + Online Resources

"Adult Math Full Study Guide" is an expertly crafted resource, tailor-made for adult learners at any level. It is an ideal tool for those revisiting math after a break, looking to sharpen their professional skills, or indulging in the pleasure of learning. This guide is not just a book but a holistic approach to understanding mathematics, offering a full spectrum of resources and tools for an enriching learning experience.

+1K Downloads
Teacher's Choice
100% Guaranteed
Secure Checkout
Lifetime Support
Key Features of the Study Guide:
Structured Learning Path: The guide is meticulously organized into coherent sections, each building on the previous one. Starting from the basics of arithmetic and progressing to more advanced topics like algebra, ensures a solid foundation before tackling complex concepts.
In-Depth Explanations: Complex mathematical ideas are broken down into easy-to-understand language. Detailed explanations are provided, making even the most challenging topics accessible and comprehensible.
Rich Examples and Sample Problems: The guide is interspersed with illustrative examples showing how mathematical principles are applied in various contexts. Sample problems come with step-by-step solutions, reinforcing the learning process.
Self-Assessment Tools: Integrated self-assessment sections help you evaluate your understanding and retention, pinpointing areas needing more attention and solidifying your knowledge base.
Additional Online Resources: The guide includes access to an exclusive online portal, offering a wealth of additional exercises, engaging video tutorials, and interactive quizzes. These resources are designed to perfectly complement the study material in the guide.
QR Code Integration: Each chapter features QR codes, linking directly to supplementary online content. This integration makes the learning experience more interactive and engaging, allowing for a seamless transition between the book and digital resources.
"Adult Math Full Study Guide" is more than a conventional study aid; it's a dynamic, adaptive learning tool crafted to suit your individual pace and style. Whether you're aiming for personal enrichment or professional advancement, this guide empowers you to confidently navigate the world of mathematics, unlocking new opportunities for growth and achievement.
Effortless Math: We Help Students Learn to LOVE Mathematics - © 2023