How much Does It Cost to Retake the CBEST Test?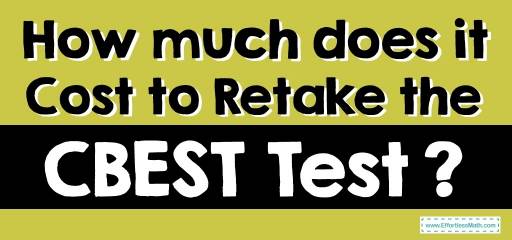 If you are preparing to retake the CBEST test, you may want to know if you need to pay. In this post, you will find the answer to this question. So join us!
The Absolute Best Book to Ace the CBEST Math Test
The California Basic Educational Skills Test or CBEST is often the first step in obtaining a degree in California. This test designs to test reading, math, and writing skills, which is the most fundamental to a career as an educator. The CBEST test is available in computer-based and paper-based formats.
A total score of 123 is required in all three subtests. Your results will be determined using scaled scores ranging from 20 to 80 for all three sections. The passing score in each part is the scaled score of 41. However, you can get a low score of 37 in a section, as long as your total of three points is 123 or higher.
But if you do not pass the CBEST test you can retake any or all of these subtests as many times as you need to get a passing score. The only limitation is the waiting period after your last attempt, which must pass 45 days before you can sit down for any retake.
And but how much does it cost to retake the CBEST? The CBEST test registration fee for the paper-based exam is $ 41, and an additional fee of $ 61 will apply if you decide to take the computer-based exam.
Looking for the best resources to help you or your student succeed on the CBEST test?
The Best Book to Ace the CBEST Test
More from Effortless Math for CBEST Test …
Need more information about the validity period of the CBEST test?
How long is the CBEST Test Valid has been prepared for this purpose for CBEST test takers.
Do you know the top website in CBEST virtual math education?
Top 10 Free Websites for CBEST Math Preparation helps you find useful websites for CBEST self-study.
CBEST exam day tips will help you a lot in your exam success process. What do you know about CBEST exam day? Follow our article on this topic and increase your test score: CBEST Math-Test Day Tips
The Perfect Prep Books for the CBEST Math Test
Have any questions about the CBEST Test?
Write your questions about the CBEST or any other topics below and we'll reply!
Related to This Article