How long Is the CBEST Test Valid?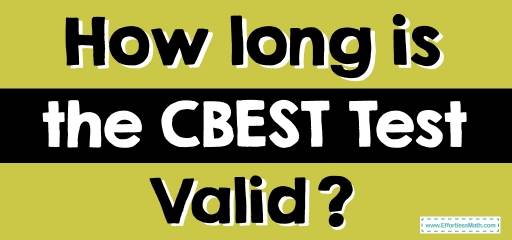 If you are preparing for the CBEST test, you want to know how long the CBEST test is valid. Join us to answer this question.
The Absolute Best Book to Ace the CBEST Math Test
The California Basic Educational Skills Test or CBEST is a standardized test that assesses the potential talents of eligible teacher candidates for employment in the state of California. The purpose of the CBEST test is to determine the candidate's knowledge to meet the needs of students in the classroom environment. The CBEST exam is available in online-proctored, computer-based, and paper-based format. The test covers these topics:
To pass the CBEST test total score of 123 across all three subtests is required. The passing score in each section is the scaled score of 41. Although the passing score of the subtest is 41, you can get up to 37 points in one or two subtests and still get an overall passing score. To do this, you must earn more points in the remaining sub-test (s) to make up for the points.
For a computer-based test, the results are usually available to you within two weeks. For paper-based testing, the results will usually be available to you within three weeks.
All acceptance competency scores except CBEST scores must be used for credential purposes within ten years of the test date. The ten-year validity time does not apply to CBEST scores. So how many years is CBEST valid? The CBEST test is valid for five years.
Looking for the best resources to help you or your student succeed on the CBEST test?
The Best Book to Ace the CBEST Test
More from Effortless Math for CBEST Test …
Need a step-by-step guide to passing the CBEST Math Exam?
How to Pass the CBEST Test: A Step-By-Step Guide will guide you in this area.
Do not know anything about the cost of the CBEST test?
no problem! How much does the CBEST Test Cost give you information about the cost of the CBEST test.
Worried that you will not remember the necessary formulas on the day of the test?
Worry is useless! Just use The Ultimate CBEST Math Formula Cheat Sheet to meet your needs.
The Perfect Prep Books for the CBEST Math Test
Have any questions about the CBEST Test?
Write your questions about the CBEST or any other topics below and we'll reply!
Related to This Article