The Ultimate 7th Grade ILEARN Math Course (+FREE Worksheets)
Are you on the quest for a comprehensive, all-encompassing educational program specifically curated to prepare your students for the looming 7th Grade ILEARN Math exam? Congratulations, your search ends here!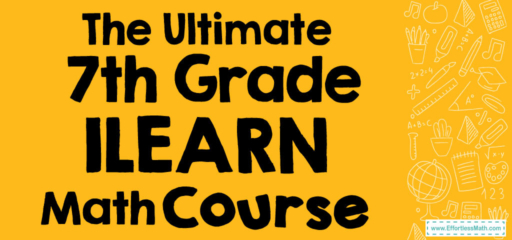 Our gratuitous course is just what you need to catapult your students to unprecedented heights of success on the 7th Grade ILEARN Math Course. It meticulously imparts every relevant concept of the exam, ensuring your students are fully armed and ready to face the challenge well ahead of the examination date.
The course is a resplendent masterpiece, synthesizing all the concepts vital for the 7th Grade ILEARN Math exam, and the exceptional ILEARN Math Course is all your students will need to attain triumph when they embark on the 7th Grade ILEARN Math exam.
This spectacular ILEARN Math course, as well as our array of other Effortless Math Courses, has proven to be invaluable to thousands of annual ILEARN exam-takers. It assists them in revisiting rudimentary subjects, refining their mathematical skills, and discerning their strengths and weaknesses. All these, to ensure they attain sterling results in the ILEARN examination.
Our program allows learning at a pace tailored to your student's individual needs, completely devoid of rigid schedules! Each lecture is adorned with notes, practical examples, beneficial exercises, and engaging activities designed to aid students in effortlessly mastering every ILEARN Math concept. Following the directions for every lecture is all it takes to ACE the 7th Grade ILEARN Math examination.
The Absolute Best Book to Ace the ILEARN Math Test
7th Grade ILEARN Math Complete Course
Rational Numbers
Integers Operation
Decimals Operation
Fractions and Mixed Numbers Operation
Proportional Relationships
Rates and Ratio
Percents
Price problems
Geometry
Probability and Statistics
Equations and Variables
Geometric Problems
Inequalities
Statistics and Analyzing Data
Looking for the best resource to help your student succeed on the 7th Grade ILEARN Math test?
The Best Resource to Ace the 7th Grade ILEARN Math Test
Related to This Article