The Ultimate 7th Grade MCAP Math Course (+FREE Worksheets)
In the quest to unearth a holistic, comprehensive academic program designed to equip your students for the 7th Grade MCAP Math exam? If so, your diligent search has finally borne fruit!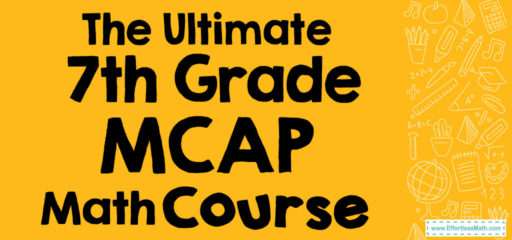 If you harbor a fervent desire to witness your students shine in the 7th Grade MCAP Math Course, this complimentary course stands as a beacon to guide you. It intends to present to them every critical concept of the examination, far in advance of the actual testing day.
Imagine a course as a vast canvas, and this particular one is painted with all the varied concepts integral to the 7th Grade MCAP Math examination. A masterpiece of educational preparation, indeed.
This exemplary MCAP Math Course is the solitary pillar your students require to secure success in the 7th Grade MCAP Math exam. This course, alongside other variants of Effortless Math Courses, serves as a valuable instrument wielded by thousands of MCAP aspirants annually. Its mission is to aid them in revisiting fundamental subjects, honing their mathematical acumen, and identifying their potent and weaker areas. All these factors combine to ensure their success, reflected in superior scores in the MCAP examination.
Study at your own rhythm, unrestricted by constrictive schedules! Each lecture is endowed with comprehensive notes, practical examples, beneficial exercises, and a multitude of interactive activities. These resources are designed to guide students in mastering every MCAP Math concept with relative ease. Simply comply with the directives of each lecture and you'll be en route to ACING the 7th Grade MCAP Math examination.
The Absolute Best Book to Ace the MCAP Math Test
7th Grade MCAP Math Complete Course
Rational Numbers
Integers Operation
Decimals Operation
Fractions and Mixed Numbers Operation
Proportional Relationships
Rates and Ratio
Percents
Price problems
Geometry
Probability and Statistics
Equations and Variables
Geometric Problems
Inequalities
Statistics and Analyzing Data
Looking for the best resource to help your student succeed on the 7th Grade MCAP Math test?
The Best Resource to Ace the 7th Grade MCAP Math Test
Related to This Article