The Ultimate 7th Grade Common Core Math Course (+FREE Worksheets)
Have you been earnestly seeking a complete, all-inclusive course to assist your students in gearing up for the formidable 7th Grade Common Core Math exam? Rejoice, for your search has come to an end!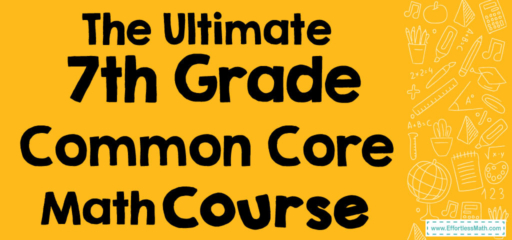 If it's your goal to empower your students to excel in the 7th Grade Common Core Math Course, then this no-cost course will meet the mark. It pledges to present them with every vital concept related to the test well ahead of the examination date.
Behold this pristine course, a holistic aggregation of all key concepts linked with the 7th Grade Common Core Math exam.
This superior Common Core Math Course is the single tool your students need to attain victory when they attempt the 7th Grade Common Core Math exam. This course, in concert with our suite of Effortless Math Courses, has been a trusted companion for thousands of yearly Common Core exam-takers. It aids them in revisiting basic subjects, brushing up their math skills, and identifying both their strengths and areas needing enhancement, thus setting them up for a high score on the Common Core test.
Embark on a study journey at your chosen pace, unshackled by schedules! Each lecture is a treasure trove of notes, examples, beneficial exercises, and engaging activities aimed at aiding students in mastering each Common Core Math concept with ease. Just adhere to the guidelines for each lecture, and watch your students skillfully ace the 7th Grade Common Core Math exam.
The Absolute Best Book to Ace the Common Core Math Test
7th Grade Common Core Math Complete Course
Rational Numbers
Integers Operation
Decimals Operation
Fractions and Mixed Numbers Operation
Proportional Relationships
Rates and Ratio
Percents
Price problems
Geometry
Probability and Statistics
Equations and Variables
Geometric Problems
Inequalities
Statistics and Analyzing Data
Looking for the best resource to help your student succeed on the 7th Grade Common Core Math test?
The Best Resource to Ace the 7th Grade Common Core Math Test
Related to This Article