How to Prepare for the SHSAT Math Test?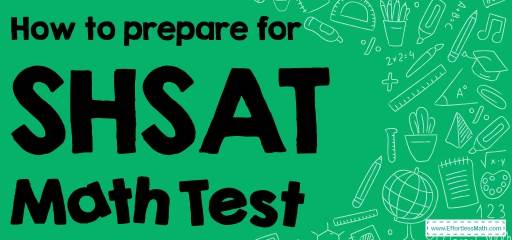 The Specialized High School Admissions Test, commonly known as the SHSAT, is a standardized test that is administered by the New York City Department of Education.
SHSAT is the criterion for admissions to New York City Specialized High Schools.
It is available to 8th-grade students in New York City.
9th-grade students may also choose to take the 9th-grade version of the SHSAT.
The SHSAT assesses English Comprehension (Verbal) and Mathematics knowledge and skills.
The Mathematics section of the test is a 75-minute test that covers basic mathematics topics, quantitative problem-solving, and algebraic questions.
There are 5 Gridded-Response and 52 multiple-choice questions in the Math section of SHSAT and students have 75 minutes to complete this section.
The calculator is NOT allowed for the SHSAT test.
How to Study for the SHSAT Math Test?
If you are applying to New York City Specialized High Schools, you must take the SHSAT test. This can be important and somewhat stressful for you, especially if you feel weak in math and are worried about it. We recommend that you put aside unnecessary worries.
In fact, by following a few simple tips, you can pass the SHSAT test, especially the math part. Here we will guide you step by step to prepare for the SHAST Math test.
The Absolute Best Book to Ace the SHSAT Math Test
1. Choose your study program
Many prestigious SHSAT books and study guides can help you prepare for the test.
Most major test preparation companies have some offerings for the SHSAT, and the short-listing of the best book ends up being a puzzling phenomenon.
There are also many online SHSAT courses.
If you just started preparing for the SHSAT test and you need a perfect SHSAT prep book, then SHSAT Math for Beginners: The Ultimate Step by Step Guide to Preparing for the SHSAT Math Test is a comprehensive prep book for you to master all SHSAT topics being tested right from scratch.
It will help students brush up their math skills, boost their confidence, and do their best to succeed on the SHSAT Test.
This one is an alternative book:
You can also use this great prep book:
If you just need a SHSAT workbook to review the math topics on the test and measure your exam readiness, then try: "SHSAT Math Practice Workbook: The Most Comprehensive Review for the Math Section of the SHSAT Test"

You can also use our online course for the SHSAT test: The Ultimate SHSAT Math Course.
Have a look at our FREE online SHSAT course to help you assess your knowledge of Mathematics, find your weak areas, and learn from your mistakes.
SHSAT Math FREE Resources:
2. Think of math positively
You may not know it yet, but it is very important to have a positive attitude toward math. This attitude will help you progress in math.
Do not look at math as if you want to finish your study as soon as possible. You need to think about it as an interesting and useful topic that will make you progress.
3. Make the concepts clear
You must first be familiar with the concepts in the SHSAT Math Test.
If you do not have enough information about the resources and concepts in the test, it is better to search for them carefully.
You must separate the more basic concepts from the advanced ones.
If you do not have enough mastery of the basic concepts, do not go to the advanced concepts.
You should study step by step, otherwise, you will not understand the concepts well and you will get bored with mathematics.
4. Practice daily
If you've never had a daily study plan, now is the time to set up one to see the results.
You should make a plan and persist with it. By doing this, you get used to continuous studying and this is the key to your success.
5. Find the best way to learn math
It's up to you which way you prefer to learn, but there are ways to speed up your learning process.
One of these methods is to participate in SHSAT test prep courses or use SHSAT test prep books.
If you use the self-study method to prepare yourself for the SHSAT test, do not forget that in some prep books, you can find tips that you may not know.
Here you will find a complete list of books that will prepare you for the SHSAT Math Test.
You can also either use a professional tutor to speed up your learning process or if you wish to use books that will guide you like a professional tutor.
The Best Resource You Need To ACE The SHSAT Math Test
6. Memorize SHSAT Math formulas well
The SHSAT test does not give you a formula sheet, so you have to memorize all the necessary formulas.
Of course, you don't need to worry about it. You probably already learned most of these formulas.
Rarely SHSAT Math Test require complex formulas.
There is another benefit to memorizing formulas, it speeds up your response to the test.
Here is a complete list of formulas you need for the SHSAT test and their explanations and applications.
7. Take SHSAT simulated tests
To identify your strengths and weaknesses, you should take the SHSAT simulated tests.
Once you know your weaknesses, you can overcome them with more practice.
Keep in mind that after getting acquainted with the basic concepts and generalities of mathematics, you should take the simulated tests. These tests can be written or online.
The conditions of the simulated tests must be the same as the main SHSAT test. The more simulated tests you take, the less stress you will have on the main test.
Participating in these tests is an important factor that makes you not have the problem of lack of time on the day of the main test.
8. Register for the SHSAT test
To register for the SHSAT test, you must contact your school counselor.
Approximately two weeks after the test registration deadline, a ticket will be issued in your name stating the time and place of the test.
9. Take the SHSAT Math Test
On the day of the test, try to arrive at the test center 30 minutes earlier.
You must prepare all the necessary equipment for the test the night before. These include two pencils, an eraser, a sharpener, a bottle of water, and a snack.
Do not forget your ID card and ticket.
It is also necessary to have a non-smartwatch.
Keep your cell phone and personal items at home.
The math section of the SHSAT test is 75 minutes, so you should manage your time well.
You are not allowed to use the calculator.
When you do not know the answer to a question Do not get stuck on it, move and come back later.
Do not leave any questions blank because there is no penalty.
Prepare for Excellence With This PERFECT SHSAT Math Practice Book
SHSAT FAQs:
Here are some common questions about SHSAT:
What is on the SHSAT test?
The SHSAT assesses English Comprehension (Verbal) and Mathematics knowledge and skills.
What score do you need on the SHSAT to get into Stuyvesant?
As an eighth-grade, you should get a score above 560 and as a ninth-grade, you should get a score above 590-600.
Is the SHSAT hard?
This exam is challenging and you must be prepared to pass it.
Can you use a calculator on the SHSAT?
No, you are not allowed to use a calculator.
What is the highest SHSAT score?
The highest composite score is 800.
When should I start studying for the SHSAT?
effective prep generally starts no sooner than March and no later than the end of August.
How many times can you take the SHSAT?
You can only take the SHSAT test a maximum of two times.
Looking for the best resources to help you or your student succeed on the SHSAT test?
The Best Books to Ace the SHSAT Math Test
Related to This Article