How to Ace the SHSAT Test?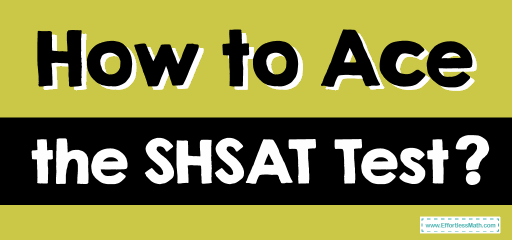 The SHSAT is a test for eighth and ninth-grade students. It is used to determine admission to all but one of them in New York City Specialized High Schools.
There is no secret to success in SHSAT, but there are some strategies you can use to maximize your opportunity for success. Below, we describe three points that can guide you through the process of SHSAT testing.
The Absolute Best Book to Ace the SHSAT Math Test
1- Work backward on math problems
Can't you figure out the math problem? Start with each answer choice and work back to see if it makes sense. If you still can't determine the correct answer, this method can help you use the delete process to limit it.
2- Support your answers in the ELA section
In the ELA part of the test, it is not enough to give the correct answer. You have to justify your thinking. Be sure to link your choice to a specific point in the text related to your answer. If you cannot find support in the passage, you may not have selected the correct answer.
3- Know how to pace yourself
SHSAT differs from typical standardized tests because it does not set a time limit for math and ELA sections, allowing students to split test time as desired. Test-takers can take advantage of this feature by taking smart steps. Before starting the test, set a basic schedule for how long each part of the test will take. The ideal strategy varies from student to student.
The Best Resource to Ace the SHSAT Math Test
Related to This Article