A Comprehensive Collection of Free SHSAT Math Practice Tests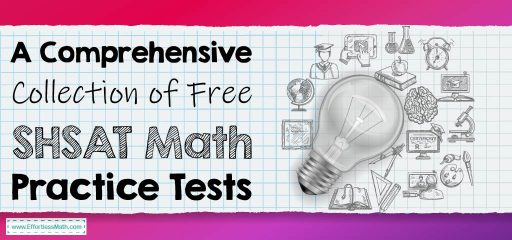 The SHSAT is a specialized exam for eighth and ninth-grade students that is given by the Department of Education in New York City to determine students' eligibility to New York City's nine specialized high schools. The exam consists of two main parts; English Language Arts and Mathematics. You can complete them in any order.
The mathematics section of the SHSAT exam consists of 5 Grid-In questions and 52 multiple-choice questions.
Arithmetic, Geometry, Algebra, and Statistics are the four topics tested on SHSAT math. The majority of math concepts on this exam are what students learned in the 7th and 8th grades.
You have only 75 minutes to complete this section and using a calculator is not permitted during the SHSAT. Because most of the questions require simple calculations, not complex math problems.
The Absolute Best Book to Ace the SHSAT Math Test
Learn the Structure of the test
You can only take the SHSAT exam twice in your lifetime. Students who take the test in 8th grade and are not successful on their first try can retake the test in grade 9. But if they take it in grade 9, they will not have another opportunity.
The exam has no penalty for incorrect answers. The overall score which is known as the raw score is determined only by the correct answers.
How to Prepare for the SHSAT Math Test?
Study the Best Resource: The first and foremost helpful way to take the exam successfully is to study. But finding the perfect resources is essential. Many books and websites are available that contain mathematical concepts and you have to opt for the best ones to learn the material once and for all.
Exam Familiarity: You have to know the style, format, and content of the actual SHSAT exam and it is possible by taking different math practice tests. Besides that, these practices may reduce your exam anxiety and prepare you in a way to answer questions of any type without getting confused.
Time Your Practices: As the exam is timed, you have to keep track of how much time is remaining. So,
You should not hang up on a difficult question. It is better to move on from it and come back later. To learn how to manage time, you have to practice a lot and time them.
Get Professional Help: Some topics are difficult and they require someone to help you. But it is very important to find the best, professional tutors or instructors to teach you the essential topics. There are also useful instructional videos on several websites to help you that way.
8 Best Websites for SHSAT Math Practice Tests
EfforthlessMath
The effortless Math website is full of great potential to ace the SHSAT exam. It has a free math practice test so you can understand the type of questions you will see on the exam.
You will have access to several workbooks, exercise books, study guides, practice tests, and other related books.
By studying each of them, you can learn the materials and then practice adequately to take the exam successfully. It also offers video lessons and explanations for topics that are tested.
Test-guide
There are 2 math practice tests on this website that mirror the exam style and content. Taking these tests before the actual exam is essential to get familiar with the test and dealing with your anxiety. It provides great information about the test format to eliminate any confusion about it.
There is a great section to introduce study resources and other important features. It also gives you information about the score and how to gain the best result.
Argoprep
It facilitates your access to free math practice tests as you must take several of them before the test date. The goal of these tests is to familiarize you with the exam format and content and consequently reduce your test anxiety.
It has several small quizzes, too. Some test tips may develop your performance on the actual SHSAT. In addition, you are provided with helpful information that you have to know about the test.   
Kaptest
The benefit of this website is that you get access to free practice tests and they not only cover math but also all the topics you have to know for SHSAT. But they are categorized by topics and provide the questions for each section individually.
With the help of these practice tests, taking the actual exam become easier as you see the question type formerly. So, try to answer the questions and avoid making similar mistakes.
Study
This website offers some free math practice tests and makes you proficient in test-taking skills and SHSAT mathematical knowledge. Taking lots of practice tests is very effective in increasing the speed of solving questions which is important in this exam.
It also helps you with useful tips and tricks that teach you the ways to take the exam more comfortably. You can use the benefit of this website that offers guidance to know the different features of the exam.
Shsatsunset
It is another reliable website that is filled with free math practice tests. As they reflect the form and content of the SHSAT, taking them is the best way to know all details of the actual exam. Besides that, it increases your speed to answer the questions.
There is a section that devotes comprehensive guidance and provides you with information to know how to take the test and register for it. Everyone may need this information to take the exam more confidently.
Onlinemath4all
Sometimes you may need to review the essential topics and then go through questions. That is what this website offers so that you learn the materials and then can take the free math practice tests. One important issue about this test is time management and you can master it through practice tests.
So, it is like a package that contains everything you must know to take the exam successfully. Use the advantages of this website and gain the score you have ever dreamed of.
Gotestprep
It is one of the most comprehensive websites that provide free practice tests for any type of exam. It also covers all of the topics that are tested on the SHSAT including math. These practice tests are going to help you master the materials and answer questions in a limited time.
By reading the exam review that is available on the website, you get useful information to take the exam with less stress but more confidence. So, it is suggested not to miss any part of this website.
The Absolute Best Book to Ace the SHSAT Math Test
Free SHSAT Math Practice Tests
10 Best SHSAT Math Books
All this information about websites and books aims to give you different options so that you choose the best one according to your study plan.
The Absolute Best Book to Ace the SHSAT Math Test
Related to This Article