4 Best Keyboards for Online Teaching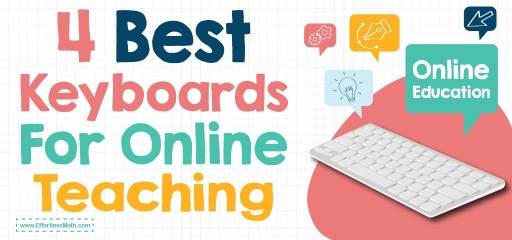 The keyboard is one of the most straightforward — and most enjoyable — instruments to learn. However, if you're a complete novice learning to read music for the first time, you may not be ready to commit to a full-sized instrument just yet (or have the space for one either).
The keyboard is a lighter alternative that may quickly teach you to play like your favorite composer or musician.
1. Yamaha Compact Portable Keyboard With Headphones
Yamaha offers some of the best keyboards on the market, and this portable keyboard is an attractive entry-level option.
This kit includes everything you'll need to get started, including headphones, so you don't bother your roommates and a cushioned seat, so you don't have to sit on an uncomfortable stool when practicing.
Meanwhile, a stand is included to keep your keys upright wherever you go, and a portable pedal plugs into the keyboard allows you to practice long, sustained notes.
2. Alesis Melody 61 MKII Music Keyboard
This Alesis model has 61 keys and costs only $120 for complete keyboard equipment, including a bench, stand, headphones, and mic (as of this writing).
It's a very versatile and portable choice that makes learning a little more enjoyable. Consider the following example: The keyboard features over 300 built-in sounds, so you can go from playing the organ to drums or synths in a matter of seconds.
A metronome is included to ensure that you don't rush through your tunes. You can even record yourself playing the keyboard.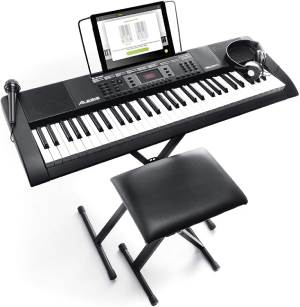 3. Donner DEP-10 Beginner Digital Piano
You don't have to settle for a low-quality instrument just because you're learning a new instrument. The 88 semi-weighted keys on this Donner digital piano give it a somewhat more natural playing sensation than a regular keyboard.
On this keyboard, Donner added eight different playing tones, allowing you to make it sound like you're playing an actual grand piano, a church organ, or even a whole symphony.
It's also lightweight and compact, taking up less space in your apartment, tiny office, or home studio.
4. Casio LK-S250 – Beginner Keyboard with Key-lighting
The LK-S250 is all about having fun with music, which is the most effective way to learn. It doesn't have the same sound quality as the Yamaha YPT-260, and it's unlikely to last as long.
Casio's LK-S250, on the other hand, will get you playing and having fun faster than others. It's one of the best learning keyboards just because of the piano key lights.
When it comes to electronic keyboards for beginners, Casio is, without a doubt, one of the most outstanding manufacturers. The LK-S250 was explicitly designed for students.
There are 61 velocity-sensitive keys with two touch response levels. Not only are the keys velocity-sensitive, but they also feature Casio's Key Lighting system. It turns red when you hit a key, which is especially useful when using the Chordana Play app.
Related to This Article