Top Calculator for the PSAT 10 Math Test: Quick Review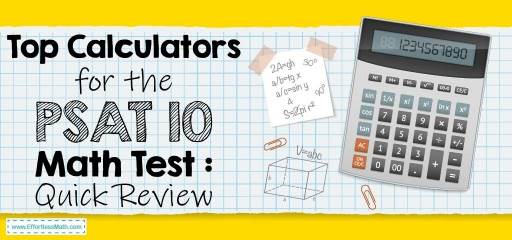 Are you in 10th grade preparing for the PSAT test? Do you want to know the best calculator that will help you solve Math questions?
The Preliminary SAT/National Merit Scholarship Qualifying Test has laid down some standards which students sitting for the exams must follow.
The College Board has also approved some specific calculator guidelines for the PSAT 10.
Students are advised to have their calculators while coming for the exam. However, ensure you're familiar with your calculators before the exam day and use either scientific calculators, four-function calculators, or graphing calculators.
The Absolute Best Book to Ace the PSAT 10 Math Test
Some PSAT math questions need a calculator while others do not require a calculator. So it's advisable to get your calculator ready. You might be wondering which one is the best among all the approved calculators.
In this article, we will do a quick review of the top calculator for the PSAT 10. So let's get started!
List of Top Calculators for PSAT10
Casio
FX 6000 series
FX6500 series
FX 7300 series
FX7700 series
FX8700 series
It features a two-line display
Support algebra, complex number calculations, and calculus
Graphing calculator with icon-based menu
easy to calculate the dependent and independent value
Can solve graphing X, intercept, and intersection
Made with Plastic material
Not durable
Hewlett- Packard
HP-9G
HP-28
HP-39
HP-40
HP-prime
Has over 100+ built functional together with 10bll which Meares it comfortable for students
Minimal keystrokes but diverse functions
Permitted for SAT, PSAT/NMSQT, and College Board AP tests
Adjustable contrast
OSALO
OS-991 ES plus
OS-82 MS plus
OS-280 plus
Standard scientific calculator with graphing functions
2-line large display
401 functions for both basic calculations and complex number calculations
Protected with durable removable cover
Removable case with number chart
A dual power source (solar or battery)
Sharp calculator
EL-5,200
EL-9200
EL-9300
EL-9600
640 functions
Can solve general math, trigonometry, statistics, algebra, geometry, and pre-algebra
Drill modes and seven regression type
Write view display
PC simulator
Solar power source or battery
Medium Quality
Texas Instrument
TI-73
TI-84 plus
TI-80
TI-81
TI-82
High-quality graphing calculator made of metal
permitted for PSAT, SAT, and NMSQT
Can solve everything college algebra, business calculus, and statistics
Lightweight
Rechargeable
Price is high
Best PSAT 10 Math Prep Resource
Top Calculator for the PSAT 10 by ranking
The overall rate calculator for PSAT 10 are TI-84 Plus and TI-82 Plus
Rated- CasioFX 7700 and CasioFX 6000 series
The third-rated calculator is the HP-28
HP39G and TI-84plus
TI-82 Plus and EC-4037
EC-4033 and EL-9200
List of banned calculators for PSAT
Stylus
Touchscreen
Smartwatches
TI-92
Voyage 200
Scanning calculator
Final Words
Preparing ahead of your NMSQT/PSAT is the best readiness decision to make before your exam day. Some questions require the use of a calculator for solving (but not all questions).
You are to answer 28 math questions but 11 questions only require a calculator.
You can rely on the best PSAT 10 calculator which is listed in this article.
They're all easy to use and have great advantageous features compared to other calculators.
PSAT 10 Math FREE Resources:
The Best Books to Ace the PSAT 10 Math Test
Related to This Article