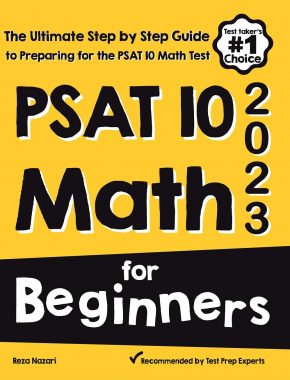 PSAT 10 Math for Beginners 2023
The Ultimate Step by Step Guide to Preparing for the PSAT Math Test

PSAT 10 test taker's #1 Choice!
Recommended by Test Prep Experts!
The perfect guide for students of every level, PSAT 10 Math for Beginners will help you incorporate the most effective methods and all the right strategies to get ready for your PSAT Math test!
This up-to-date guide reflects the 2022 test guidelines and will set you on the right track to hone your math skills, overcome exam anxiety, and boost your confidence. Are you ready to ace the PSAT Math test?

+1K Downloads
Teacher's Choice
100% Guaranteed
Secure Checkout
Lifetime Support
PSAT 10 Math for Beginners helps test takers gain all the skills they need to succeed on PSAT 10 Math. It builds a solid foundation of mathematical concepts through easy-to-understand lessons and basic study guides. Not only does this comprehensive study guide offer everything you will ever need to ace the PSAT 10 Math test, but it also contains two full-length and realistic PSAT 10 Math tests that reflect the format and question types on the PSAT to help you check your exam-readiness and identify where you need more practice.
With this book, students will learn math through structured lessons, complete with a study guide for each segment to help them understand and retain concepts after the lesson is complete. It includes everything from:
Content 100% aligned with the 2023 PSAT 10 test
Written by PSAT Math tutors and test experts
Complete coverage of all PSAT 10 Math concepts and topics on the 2023 PSAT test
Step-by-step guide for all PSAT 10 Math topics
Over 500 additional PSAT math practice questions in both multiple-choice and grid-in formats with answers grouped by topic (so you can focus on your weak areas)
Abundant Math skills-building exercises to help test-takers approach unfamiliar question types
2 full-length practice tests (featuring new question types) with detailed answers
And much more!
With this self-study guide, you won't need a math tutor to pave your path to success. PSAT 10 Math for Beginners is the only book you'll ever need to master PSAT Math concepts and ace the PSAT Math test!
Ideal for self-study and classroom usage!
Effortless Math: We Help Students Learn to LOVE Mathematics - © 2023