The Ultimate 7th Grade SC Ready Math Course (+FREE Worksheets)
Do you find yourself on a quest for a comprehensive, multifaceted course to bolster your students in their preparation for the 7th Grade SC Ready Math exam? Your search ends here!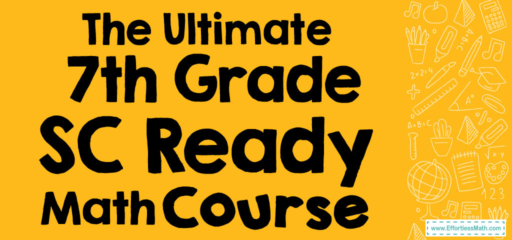 If your aspiration is to guide your students towards excellence in the 7th Grade SC Ready Math Course, then this complimentary course is the perfect tool to get the job done, equipping them with every critical concept of the test well ahead of the testing day.
Think of this as the archetype of Courses, encapsulating all the concepts germane to the 7th Grade SC Ready Math exam.
This superlative SC Ready Math Course is the singular resource your students will need to triumph when they undertake the 7th Grade SC Ready Math exam. Alongside other forms of Effortless Math Courses, this Course for SC Ready Math is utilized by thousands of annual SC Ready aspirants. Its objective is to assist them in revisiting the fundamental subjects, polishing their mathematical prowess, and discerning their strong and weak areas to ensure they score highly when undertaking the SC Ready test.
Immerse yourself in the learning process at your own pace, free of any schedule constraints! Each lecture is furnished with comprehensive notes, illustrative examples, beneficial exercises, and other activities designed to facilitate students in mastering every SC Ready Math concept with ease. The only requirement is to adhere to the instructions for each lecture to ace the 7th Grade SC Ready Math examination.
The Absolute Best Book to Ace the SC Ready Math Test
7th Grade SC Ready Math Complete Course
Rational Numbers
Integers Operation
Decimals Operation
Fractions and Mixed Numbers Operation
Proportional Relationships
Rates and Ratio
Percents
Price problems
Geometry
Probability and Statistics
Equations and Variables
Geometric Problems
Inequalities
Statistics and Analyzing Data
Looking for the best resource to help your student succeed on the 7th Grade SC Ready Math test?
The Best Resource to Ace the 7th Grade SC Ready Math Test
Related to This Article