Top 10 Tips to Create a CBEST Math Study Plan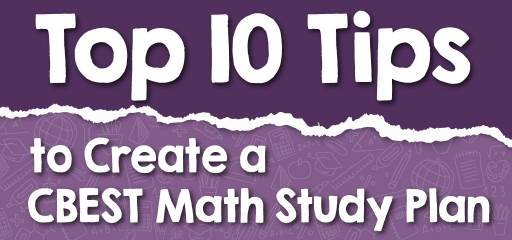 The California Basic Educational Skills Test (CBEST) is usually the first step in obtaining a teaching credential in California. The CBEST test includes three parts:
Reading
Mathematics
Writing
To succeed in CBEST math, you must have a CBEST study program. This plan tells you when, what, and how you can prepare for CBEST math. It also helps you manage your time and make the most of your time for CBEST math. Here are some tips to help you get started with a CBEST math study program. So join us!
The Absolute Best Book to Ace the CBEST Math Test
1- Understand CBEST content
Studying at CBEST begins with examining the skills that the test assesses. CBEST test information is available through the California Educator Credentialing Assessments website. Although this document does not include the actual questions you will see in the test, you will find a list of the skills you will be asked to find in each section of CBEST. For each section (reading, math, and writing), skills are listed in the relevant field.
2- Find CBEST prep materials
Before starting a CBEST math study program, it is best to gather all the resources related to your study. Therefore, you do not spend time studying to find the resources you use for CBEST math.
3- Start early for CBEST math
Waiting to start studying CBEST math until the last minute is the biggest mistake you can make. As you approach the day of the CBEST math test, you will probably feel tired and stressed, making it harder to remember anything. It will stress you out and reduce your study efficiency. So be sure to get ready soon for CBEST math.
4- Schedule regular test times
It is important to make sure you have enough time to review all the CBEST math topics. Take out your calendar and pencil time in. If you do not have enough time to fully review the material, you will not be ready on the day of the test!
5- Take practice tests
With practice tests, you can identify your strengths and weaknesses, allowing you to focus your energy on studying the topics you are most involved with. In addition, it helps you become familiar with the test format, which can reduce anxiety and help you determine how to make the most of your time during the test. The CBEST website offers both a free online and paper practice official CBEST practice test.
A Comprehensive Bundle to Help you prepare for the CBEST Math Test
6- Work with study partners
Being accountable to others can help you stay motivated. Working with a study group or study partner can be an effective way to ensure that you continue to study regularly what you need to cover before the CBEST test day.
7- Practice daily
If you have never had a daily study schedule, it is time to have a proper daily study schedule for the CBEST Test. It will make you more concentrated on your goal. Remember that no one is deprived of daily practice to succeed, even geniuses strive for their goal every day.
8- Take care of yourself
Health care is very important, and you should pay attention to it during your CBEST study program. You can spend many hours studying and preparing for CBEST math, but you should eat well, drink plenty of water, and exercise. These steps will help you to be more focused and prepared when preparing for CBEST math.
9- Update your CBEST schedule
Before each study period, your study plan should be updated to outline the specific objectives and study materials of that study session.
10- Commit yourself to the study program
Although you may have an attractive plan to pass the CBEST math test, note that the design of this program does not guarantee its implementation. To get the right result from math planning, you need to take some time and try to force yourself to run the designed program. After a while, the CBEST program will become part of your regular schedule.
Finally, keep in mind that while a study program can help you pass the CBEST math test, it does not answer on its own, and the final success of the CBEST test depends on your willpower and performance.
Looking for the best resources to help you or your student succeed on the CBEST test?
The Best Book to Ace the CBEST Test
More from Effortless Math for CBEST Test …
Do you know the tips you need to retake the CBEST exam?
In the Top 10 Tips You MUST Know to Retake the CBEST Math, we will teach you the top tips for test-takers.
Want to know some tips for relieving CBEST math test anxiety?
To solve your problem, you can follow the tips in the Top 10 Tips to Overcome CBEST Math Anxiety article.
Have you tried many math courses to prepare for the CBEST math test but were not satisfied?
You have not tried our course yet!: The Ultimate CBEST Math Course (+ FREE Worksheets & Tests)
The Perfect Prep Books for the CBEST Math Test
Have any questions about the CBEST Test?
Write your questions about the CBEST or any other topics below and we'll reply!
Related to This Article