How to Prepare for the HiSET Math Test?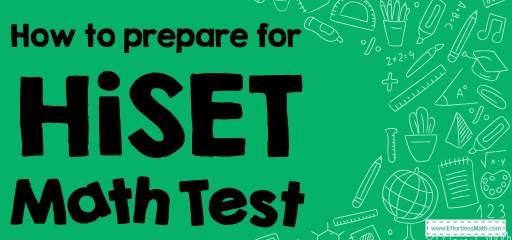 The High School Equivalency Test (HiSET), commonly known as HiSET, is a standardized test and was released in the year 2014.
This test was created by the ITP (Iowa Testing Programs) and ETS (Educational Testing Service).
The HiSET is equal to the GED test.
Currently, twelve states offer the HiSET®: California, Iowa, Louisiana, Maine, Massachusetts, Missouri, Montana, Nevada, New Hampshire, New Jersey, Tennessee, and Wyoming.
HiSET test takers can choose to take the test using a computer, or with pencil and paper.
The HiSET is made up of five distinct sections:
Language Arts Reading
Language Arts Writing
Science
The HiSET Mathematics test is a 90-minute, single-section test that covers basic mathematics topics, quantitative problem-solving, and algebraic questions.
There are approximately 50-55 Multiple-choice questions in the Mathematics section.
The calculator is allowed in the Math section.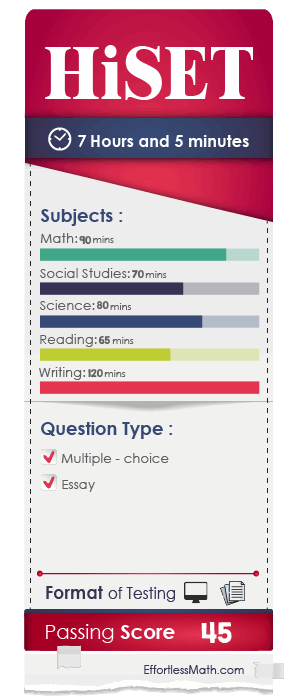 How to Study for the HiSET Math Test?
If you have decided to take the HiSET test, it is important to know that math is an important part of this test.
Maybe you are one of the test takers who are worried about the mathematics questions on the test. If so, do not worry, we will guide you step by step to prepare for the HiSET math test.
The Absolute Best Book to Ace the HiSET Math Test
1. Choose your study program
There are many prestigious HiSET books and study guides that can help you prepare for the test.
Most major test preparation companies have some offerings for the HiSET, and the short-listing of the best book ends up being a puzzling phenomenon.
There are also many online HiSET courses.
If you just started preparing for the HiSET course or test and you need a perfect HiSET prep book, then HiSET Math for Beginners: The Ultimate Step by Step Guide to Preparing for the HiSET Math Test is a perfect and comprehensive prep book for you to master all HiSET topics being tested right from scratch.
It will help you brush up on your math skills, boost your confidence, and do your best to succeed on the HiSET Test.
This one is an alternative book:
You can also use this great prep book:
If you just need a HiSET workbook to review the math topics on the test and measure your exam readiness, then try: "HiSET Math Practice Workbook: The Most Comprehensive Review for the Math Section of the HiSET Test"
This bundle contains 7 comprehensive HiSET Math learning resources to help test takers prepare for the HiSET Math Test. This product is the only resource you will ever need to ace the HiSET Math Test.:
If you think you are good at math and just need some HiSET practice tests, then this book is a perfect HiSET test book for you:
You can also use our FREE HiSET worksheets: HiSET Math Worksheets
Have a look at our FREE HiSET Worksheets to assess your knowledge of Mathematics, find your weak areas, and learn from your mistakes.
HiSET Math FREE Resources:
2. Change your attitude toward math
You may not realize it yet, but your success depends to a large extent on your attitude toward mathematics.
If you want to get rid of math exercises as soon as possible, you cannot understand math.
Try to spend enough time-solving math exercises and make learning math easy for yourself in any way you can.
Think of math as a useful challenge, celebrate your small successes in solving exercises, and reward yourself.
3. Make the concepts clear
Knowing what concepts are included in the HiSET Math Test can have a significant impact on your success. Because you come to an intellectual coherence by carefully examining the concepts and categorizing them.
The classification of mathematical concepts should be such that the basic mathematical concepts are separated from the advanced concepts.
Then the basic concepts need to be reviewed first, even if you studied them before.
Learning math must be step by step, otherwise, you will not understand the concepts and it will be difficult for you to study. In this case, you may be disappointed in learning math.
4. Practice daily
For math concepts to stay in your mind, your study must be done daily. Make a daily study schedule and stick to it.
If you find it difficult to stick to a daily study schedule, start with less time and increase this amount gradually.
But never postpone studying math until the last month, as this will reduce your chances of passing the test. Start today and include a little math content in your daily study schedule.
5. Find the best way to learn
One of the most important things in learning math is figuring out which way to speed up your learning.
There are many ways to prepare for the HiSET Math Test. You can take prep courses or use prep books.
If you have not yet started studying HiSET math, the HiSET Math for Beginners book can help.
Other useful books can help you in the HiSET Math Test, here is a complete list of these books. These books are designed for your exact needs.
Also, if you are looking for a comprehensive book that gives you everything you need to know about the HiSET Math Test, we recommend the HiSET Math Comprehensive Prep Bundle book.
Best HiSET Math Prep Resource
6. Use the HiSET Math formula sheet wisely
Although the HiSET Math Test provides you with a formula sheet, it does not include all the formulas you need to know for the test.
This formula sheet only contains important formulas related to geometric measurements and certain algebra concepts. The reason for providing it to you is to focus on their application in the test instead of memorizing the formulas.
You have to memorize other simple but important formulas. Of course, this is not difficult for you, you already know many of these formulas.
However, we also make it easy for you. You no longer need to look for the necessary formulas for the test. We have prepared a list of HiSET test formulas with their application and meaning for you. Now you can memorize these formulas gradually.
7. Take the practice tests
Participating in HiSET simulated tests is one of the best ways to prepare for the main test. These tests can be written or online.
Test conditions should be the same as the main test.
Proper analysis of test results is very important to identify strengths and weaknesses. Spend more time on your weaknesses and strengthen them with more practice.
The more simulated tests you take, the more familiar you will be with the test conditions and the less stress you will have on the day of the main test
8. Register for the HiSET test
You need an ETS account to register for the HiSET test. To create an account, go to the ETS site and create your account by entering the required information.
To register for the test after logging in to your account, on the main page of the account, select Register for the HiSET test.
Specify the type of subtest, you want to participate in.
Continue the registration process and pay the test fee. A payment confirmation email will then be sent to you from ETS.
You must have access to a ProctorU account to determine the day and time of the exam.
An email will be sent to your email with a temporary password and a link that you should use immediately to specify the date and time of the test.
9. Take the HiSET Math test
You can take the paper-delivered HiSET test or the computer-delivered HiSET test.
In any case, try to arrive at the test site 30 minutes earlier.
Do not take unnecessary personal items such as cell phones. Do not forget to take your ID card.
Check your state requirements the day before the test because each state may have its test day policies.
The test center will provide you with a calculator and other materials that you need.
You will not usually be given unscheduled breaks. If you need a break, you should get permission from the staff of the test center, and in this case, remember that the time of these breaks should not be too long, because in return you will not be given additional time.
You have 90 minutes for the HiSET Math Test, so time management is very important to you.
This is a one-part math test that covers basic mathematics topics, quantitative problem-solving, and algebraic questions.
There are approximately 50-55 multiple-choice questions in the math section. Do not leave the question unanswered. If you do not know the answer to the question, make the best possible guess.
The Best HiSET Math Quick Study Guide
HiSET FAQs:
Here are some questions about the HiSET test:
Is the HiSET test easier than the GED?
It may be assumed that HiSET is easier than GED, but this test also has its difficulties and you must be prepared to succeed.
What is the difference between GED and HiSET tests?
The HiSET test is available in both computer and paper-and-pencil forms, but GED is only available in computer form in most states.
Who can take the HiSET test?
You must be 18 years of age or older to take the HiSET test. In this case, you can also take the HISET test at home. If you are 16 or 17, you must apply and be approved by your state.
Is the HiSET exam hard?
This test is neither too hard nor too easy. If you are well prepared for the test, you can hope to pass the test.
What is a good HiSET score?
You must score at least 8 out of 20 in each subtest. You should also be able to get a minimum score of 2 out of 6 on the essay. Your scaled score must be at least 45 out of 100.
What happens after you pass the HiSET?
After passing the exam, you can receive your high school equivalency (HSE) credential.
What math is on the HiSET?
The HiSET Mathematics test is a 90-minute, single-section test that covers basic mathematics topics, quantitative problem-solving, and algebraic questions.
High School Equivalency Tests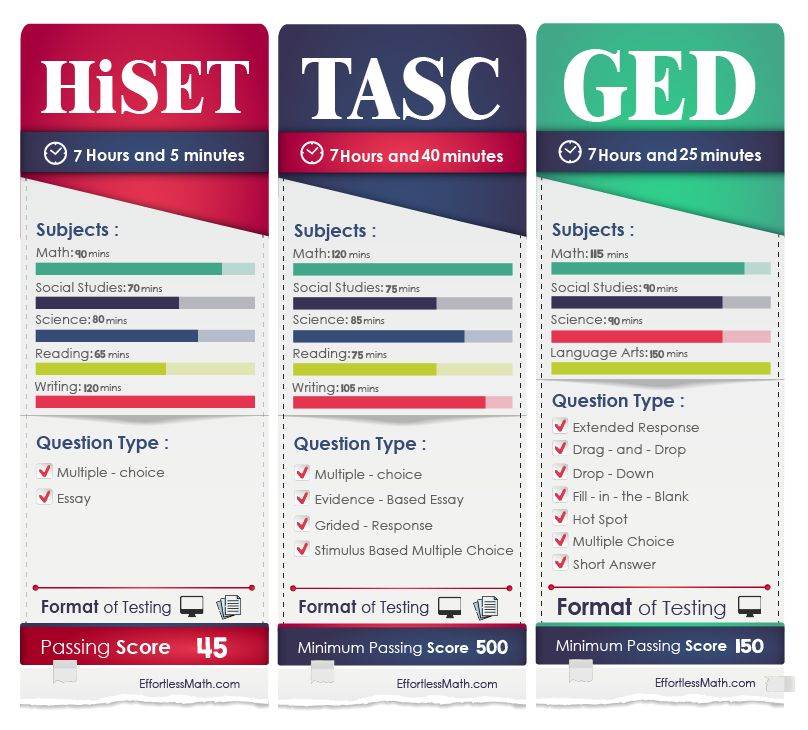 Looking for the best resources to help you or your student succeed on the HiSET test?
The Best Books to Ace the HiSET Test
Related to This Article