Best PERT Math Prep Books-Which book is the best for you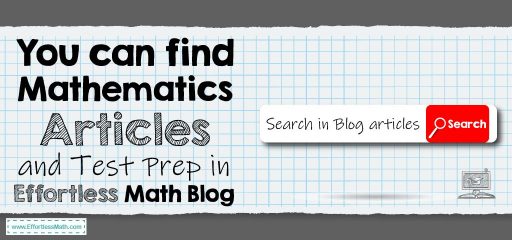 Choosing the right PERT test prep book can be tricky with the variety available. However, using prep books is an effective way to pass the exam. Selecting a book that aligns with your current knowledge and needs is important. If you're unsure which book to choose for the PERT Math test, let us help guide you in making the right choice.
The Absolute Best Book to Ace the PERT Mathematics Test
1-Take the time to know exactly what you need:
Do not limit yourself to the advice of others to choose a preparation book. Sometimes the advice of others is appropriate to their own interests or circumstances and does not suit your circumstances. So choose the resources you need and take the time to find the book that suits your needs.
2-Choose resources that are at your own level:
You need to choose a source that is not beyond your capabilities, this will make you more relaxed and focused while studying. But if you choose a resource that is beyond your problem-solving abilities, you may get bored of the lesson and lose hope of continuing to study other lessons.
If you choose a book below your level, it wastes your time and builds a false sense of self-confidence. You may feel ready, but this is not the case. To solve this problem, you can go to bookstores and check the books or ask your consultant to introduce you to a good source at your own level.
3-Choose a book that interests you:
Note that you are going to spend a lot of time studying this book so you should love the book you choose to study. You should get a good feel for it, both in terms of content and appearance. Therefore, be sure to flip through the book and pay attention to the pictures and the type of printing and writing.
4-Know the features of a good preparation book:
Good explanations should always be one of your criteria for choosing a PERT math preparation book. Always keep in mind that the description of the prep book should lead you to a correct understanding of the subject. If the textbook does not have enough explanations, the prep book should cover the shortcomings.
Try to find a short and useful book because you should be able to access more content quickly through a PERT Math Prep book. Of course, the prep book should not be a copy of the textbook and should provide new and more efficient explanations besides the textbook explanations.
5-Know what kind of book can help you:
There are different types of preparation books. We categorize these resources depending on the type of application and the type of material within it. The reason for classifying books is that each group of books is suitable for a specific group of students with a certain level.
There are two general types of preparation books for PERT math tests:
1-Books that guide you for a better study:
These books summarize the information in the textbook so that you can learn and review the material needed for the PERT math test.
Such books are self-taught and they contain examples, as well as sample questions and exercises. These books are prepared for the purpose of teaching, and their educational aspect prevails over the practice.
Depending on the level of information and the goal you are pursuing, you can choose your study guide. If you are a beginner with little knowledge about the concepts of the PERT math test, you can use books written for beginners. If you are interested in self-study at home, many books can teach you the PERT math contents like a professional tutor. You can also use the comprehensive preparation Bundle that covers all the material needed for the PERT math test for self-study. Even if you do not have much time left to prepare for the PERT test, do not worry. Some books categorize the material according to your limited time and prepare you for the PERT Math test in ten to thirty days.
2-Books that are for more practice:
The main purpose of these books is to create an opportunity to practice what has been learned, not to re-teach or retrain. Any book written for this purpose falls into this category. This category includes practice books with sample test questions and exercises with the same difficulty level as the PERT math test questions.
Last but not least, do not rush to select books. See the sample questions and checkbooks carefully, and then according to the relationship you have made with each of these books, you can choose one. For more information about the topics and courses related to the PERT math test, you can see here.
The Best Book to Ace the PERT Test
More from Effortless Math for PERT Test …
Would you like to have a better study plan for the PERT math test by following some tips?
Top 10 Tips to Create a PERT Math Study Plan will help you in this area.
How do you think you can pass the PERT math test?
We tell you that the way to succeed in the exam is to have a lot of practice! You can use PERT Math FREE Sample Practice Questions to have enough practice.
Looking for a way to interpret PERT test scores better?
How Is the PERT Test Scored help you better understand your PERT test scores?
The Perfect Prep Books for the PERT Math Test
Have any questions about the PERT Test?
Write your questions about the PERT or any other topics below, and we'll reply!
Related to This Article