How to Prepare for the THEA Math Test?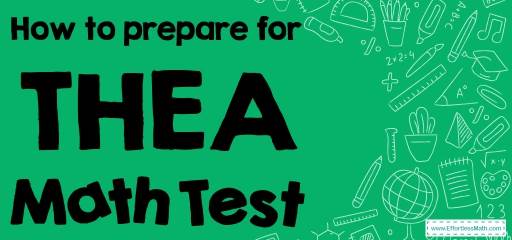 The Texas Higher Education Assessment, commonly known as the THEA, is a standardized test used for college admissions in the State of Texas. In essence, it is a broad and quick assessment of students' academic abilities.
The THEA is divided into three major segments:
There are 50 Mathematics questions on the THEA and students have 5 hours for all three sections. You may take one, two, or all three of the test sections in a single session.
The Mathematics section of THEA contains multiple-choice questions.
Students are provided with formulas to help them to solve different problems. The use of simple non-programmable calculators is allowed.
THEA Mathematics covers the following topics:
Arithmetic
Geometry
Statistics and Probability
How to Study for the THEA Math Test?
If you want to get accepted to a university in Texas, it is probably very important for you to pass the THEA test.
You may even have a lot of stress taking the test and you are especially worried about the math part of the test. But do not worry, Put stress aside.
We will guide you step by step to prepare for the THEA test.
1. Choose your study program
Many prestigious THEA books and study guides can help you prepare for the test.
Most major test preparation companies have some offerings for THEA, and the short-listing of the best book ends up being a puzzling phenomenon.
There are also many online THEA courses.
If you just started preparing for the THEA course or test and you need a perfect THEA prep book, then THEA Mathematics Prep 2019: A Comprehensive Review and Ultimate Guide to the THEA Math Test is a perfect and comprehensive prep book for you to master all THEA topics being tested right from scratch.
It will help you brush up on your math skills, boost your confidence, and do your best to succeed on the THEA Test.
This one is an alternative book: THEA Secrets Study Guide: THEA Test Review for the Texas Higher Education Assessment
You can also use this great prep book:
THEA: The Texas Higher Education Assessment
If you just need a THEA workbook to review the math topics on the test and measure your exam readiness, then try: "THEA Practice Test Questions"

You can also use our FREE THEA worksheets: THEA Math Worksheets
Have a look at our FREE THEA Worksheets to assess your knowledge of Mathematics, find your weak areas, and learn from your mistakes.
THEA Math FREE Resources:
2. Think of math positively
The first step to succeeding in a test like THEA is to think positively. If it is always difficult for you to study math and you only look at it as a burden, we recommend that you change your attitude about math.
You may think that this does not have much effect on your success, but it is enough to try to look at math as a good challenge for today, which opens the door to success for you. You will soon see the result of this positive thinking.
3. Study the concepts of the test well
The next step to better prepare for the test is to know the concepts of the test well.
Topics in the THEA Math Test include Arithmetic, Algebra, Geometry, Statistics, and Probability.
Distinguish basic concepts from advanced concepts. Then study the basic concepts first. Once you have mastered the basics, incorporate advanced concepts into your study plan. This type of concept categorization helps you to step-by-step study and better understand the contents.
4. Practice daily
One of the keys to your success in any test, including the THEA test, is daily practice. Have a study plan for each day and stick to it.
If you have difficulty planning or do not know where to start, seek help from an academic advisor.
It may be difficult for you to adjust to the program at first, but after a while, you will get used to it and see how it will help your progress.
5. Find the best way to prepare yourself
Depending on your educational background, you may need to find a way to prepare for the THEA math test.
If you feel that you know some of the concepts in the test, you can prepare for the test by self-study and through online resources or prep books.
Some test takers prefer to attend THEA test prep courses.
Others use a private tutor for their training. It depends on you which of these methods you prefer to prepare for the test.
6. Use the THEA Math Formula sheet wisely
In the THEA math test, formulas are given to you so that you can focus more on their application in the test.
But it is better to use these formulas wisely, which means that you should remember simple but important formulas. This will speed up your response to the test.
Here is a list of all the math formulas you need to know on the day of the test, as well as some explanations on how to use them and what they mean.
7. Register for the THEA test
To register for the THEA test, you must first specify your desired test location by visiting here.
After selecting the institution for the exam, you should contact the institution to see if it is possible to take the exam there or not.
Then you need to create an account on the Texas Higher Education Assessment site. To create an account, a series of information such as name, address, phone number, Student ID number, date of birth, and email address are required. A series of background questions such as diploma type, High School Type, Graduation Semester/Graduation Year, Testing Reason, high school name, and student ID is required to register.
The next step is to study and agree to test policies and rules. Your registration ends with paying the test fee.
8. Check your score reports
To view the test score, visit your account on the THEA website.
Your test score will be reported to the institution where you are taking the exam and the institutions you mentioned at the time of registration.
If your writing sample is graded automatically, your score is ready to be reported 10 minutes after the end of the writing test.
If the writing test is out of topic or short, Automatic scoring of your writing sample is not possible and the test score will be ready in two days at the latest.
THEA FAQs:
Here are some common questions about the THEA test:
What is the THEA test?
The Texas Higher Education Assessment, commonly known as THEA, is a standardized test used to admit Texas state universities. This test evaluates the scientific ability of freshman-level students.
Is the THEA test usually required in Texas to get into college?
Yes, unless their score on other tests exempts them from THEA.
What is a good THEA score?
To successfully pass the THEA, students must obtain a minimum score of 230 (score range 100-300) in the math and reading portion, and a minimum of 220 in the writing section.
The Best Books to Ace the THEA Test
Related to This Article