Top 10 Tips to Create a HiSET Math Study Plan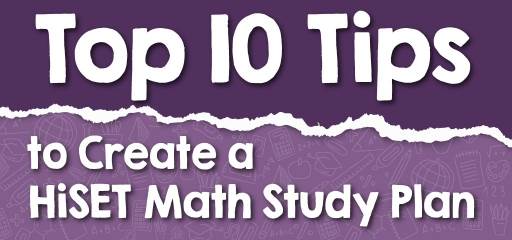 The High School Equivalency Test or is as known as HiSET, is a standardized test created by the Educational Testing Service (ETS) and Iowa Testing Programs (ITP). The HiSET is consist of five distinct sections:
Social Studies
Language Arts Reading
Language Arts Writing
Science
Mathematics
To succeed in HiSET math, you must have a HiSET study program. This plan tells you when, what, and how you can prepare for HiSET math. It also helps you manage your time and make the most of your time for math. Here are some tips to help you get started with a HiSET math study program. So join us!
The Absolute Best Book to Ace the HiSET Math Test
1- Understand the structure of the HiSET
The HiSET consists of five sections: Reading, Math, Social Studies, Writing, and Reading. The mathematics section of the HiSET test consists of 4 distinct categories of knowledge, with each of the test's questions falling under one of these. These categories include the following:
Algebra
Numbers and Operations
Data Analysis, Probability, and Statistics
Measurement and Geometry
2- Collect HiSET study materials
Before you start preparing for the HiSET mathematics, it is best to gather all the material for your study. So, you do not waste time studying to find the resources you are using.
3- Design a table to manage time
By designing a table you can use a better time. After doing this, you can assign each table column to a HiSET math topic. Fill in the columns according to what you want to read. Keep notes of what you read in each session. It helps you stay on track and also allows you to get things done faster than you dope.
4- Ask for help
If you are stuck in something, or it seems that something is not logical, you can always ask for help. Talk to your HiSET math teacher or coach about topics you do not understand. Talk to your friends and students as well. You can also find video tutorials for all HiSET math concepts and other resources needed to use the HiSET math test on reputable websites.
5- Take care of yourself
Health care is very important, and you should pay attention to it during your study plan. You can spend many hours studying and preparing for the HiSET math, but you should eat well, drink plenty of water, and exercise. These steps will help you focus and prepare better as you prepare for the HiSET math.
Best HiSET Math Prep Resource for 2022
6- Create a study environment without distractions
Mathematics is a subject that needs focus more than any other subject. A good study environment without distractions can be a deciding factor when solving complex mathematical equations! Therefore, studying in a private study space with proper lighting and a complete study routine is important.
7- Practice, practice, practice
Although it may be tedious to do a practice test, doing so is a great way to prepare for HiSET math. Completing practical exams can help you in many ways. You can know the strengths and weaknesses of your math. And manage your time answering math questions.
8- Maximize the effectiveness
Studies show that every 1 hour of study, about 10 to 15 minutes of rest, improve your ability to concentrate and can also positively affect your study schedule so that you do not have more anxiety.
9- Schedule for your other activities
As you make time for every math topic, make sure you make time for your family, friends, and rest. If you cannot balance your academic life and personal, you will never succeed in education.
10- Commit yourself to your HiSET study plan
Although you may have a very attractive plan for passing the HiSET math test, note that program design does not guarantee its implementation. To get the right result from your math planning, you should take some time and try to force yourself to execute the design plan. After a while, the HiSET program will become part of your regular schedule.
Finally, keep in mind that while a study program can help you pass the HiSET math test, it does not answer on its own, and the final success of the test depends on your willpower and performance.
High School Equivalency Tests
The Best Books to Ace the HiSET Math Test
Related to This Article