Top 10 Tips You MUST Know to Retake the FTCE Math Test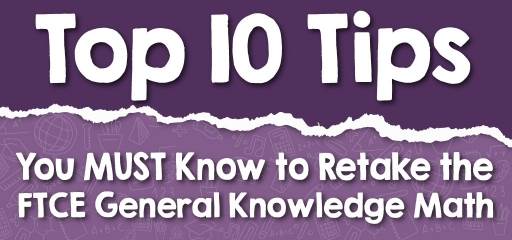 If you weren't able to pass the FTCE General Knowledge test, do not worry! Because you can retake this test. There is no limit on the number of times you can retake the FTCE. After 31 days of the previous test, you can retake the FTCE General Knowledge. And you only need to retake the sections that failed in the first attempt.
Now the main question is what tips you should follow to prevent failure again? You can remove all barriers to passing the FTCE General Knowledge Math test by following the tips we provide here. So join us!
The Absolute Best Book to Ace the FTCE Math Test
1- Forget the previous test
Try to forget your latest FTCE General Knowledge experience as much as you can. You cannot be afraid of your latest performance. Consider the pros: You have taken the test once before, so you know exactly what to expect from the test.
2- Check your FTCE General Knowledge results report
The first step to successfully retake FTCE General Knowledge mathematics is to identify weaknesses and focus on addressing them. So by reviewing your FTCE General Knowledge score report, you determine where you have been weak and need more practice.
3- Try different methods of studying math
If your previous FTCE General Knowledge math method does not work, you may want to try a newer program. For example, you can use FTCE General Knowledge math preparation books that you have not read before. This time you can also use online resources to better learn FTCE General Knowledge math.
4- Take many practice tests
One of the most important things you can do to pass the FTCE General Knowledge math test is practice a lot. The more you practice, the more likely you are to pass the FTCE General Knowledge Math test. Do many practice tests, try to understand each math question, and don't skip it without carefully examining the question.
5- Believe in yourself
The key to success in FTCE General Knowledge math is believing in your ability. If you have done your best for FTCE General Knowledge math, then know that you are good enough. Avoiding negative thinking and self-confidence will help you focus on retaking the FTCE General Knowledge Math test.
Best FTCE Math Prep Resource for 2022
6- Study with regular hours
Regularity helps you to continually improve your grades, and consistency is key. Block out regular time on your calendar to study, and stick to it.
7- Learn the FTCE General Knowledge Math formulas
The FTCE General Knowledge math does not provide a list of basic formulas needed to know the test. Improve your test score by knowing and memorizing math formulas.
8- Focus on areas that need attention
Adjust your retake study schedule to focus more on FTCE General Knowledge math topics that you have not worked on very well. By studying math carefully, you can improve your weaknesses and increase your score. Be sure to use helpful tips and tricks for the FTCE General Knowledge math section.
9- Get help if needed
If math is a difficult subject for you, you can enroll in an FTCE General Knowledge preparation class, or get help from a tutor. If you need a special kind of math, tutoring is also a good option.
10- Commit to your study plan
Remember that the most important part of FTCE General Knowledge retake is the commitment to study at regular intervals. Do not leave your review until the last few days before FTCE General Knowledge math time. It is not a problem if you sometimes miss study sessions as long as you adhere to the general plan.
From the above tips, we can conclude that we should not let a bad test lower our self-esteem. No exam is so difficult that we cannot succeed with enough effort. We always keep in mind that if others have passed the FTCE General Knowledge Math test, we can too.
The Best Books to Ace the FTCE General Knowledge Math Test
Related to This Article