Top Free Websites for FTCE General Knowledge Math Preparation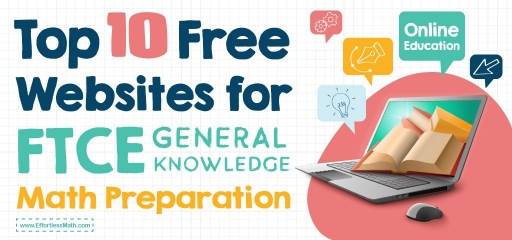 Since 1980, Florida Teacher Certification candidates have been required to pass the FTCE. This test is designed to determine the knowledge and skills of all teachers candidates to start effective careers as professional educators.
The General Knowledge test is perhaps one of the most essential components of the FTCE.
As the name implies, the General Knowledge Test assesses your abilities with teaching principles, using what you have probably already learned in your college work. This test has four parts:
Essay (1 essay-50 minute)
Math (45 questions-100 minutes)
Reading (40 questions-55 minutes)
English Language Arts (40 questions-40 minutes)
The Mathematics section of FTCE assess content in the following areas:
Number Sense and Operations
Patterns, Relationships, And Algebra
Data, Statistics, And Probability
Geometry and Measurement
If you are unable to attend FTCE General Knowledge preparation classes in person or are having difficulty paying for online classes, here are the top free FTCE General Knowledge exam training websites for you to take. So join us!
The Absolute Best Book to Ace the FTCE Math Test
1: EffortlessMath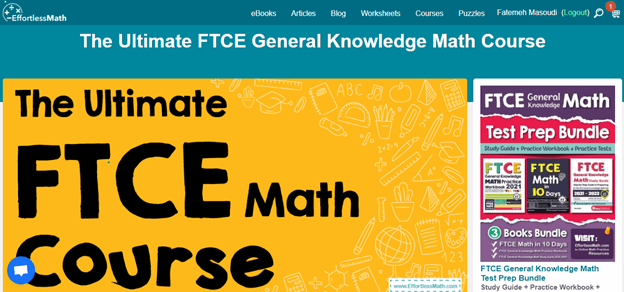 EffortlessMath website provides a collection of FTCE General Knowledge test exercises, formulas, worksheets, practice tests, and also test-taking strategies to users preparing for the FTCE General Knowledge Test. Access to all of these FTCE General Knowledge test resources is free and easy. With this website, pass the FTCE General Knowledge test easily and effortlessly.
2: Study.com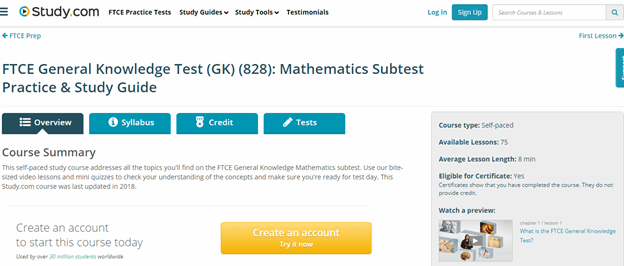 Study.com offers a wide range of study resources to help you quickly learn what to expect on FTCE General Knowledge Math exam day. Among the resources, there are practice tests that you can use to gain experience in the FTCE General Knowledge Math test and test content.
3: Mometrix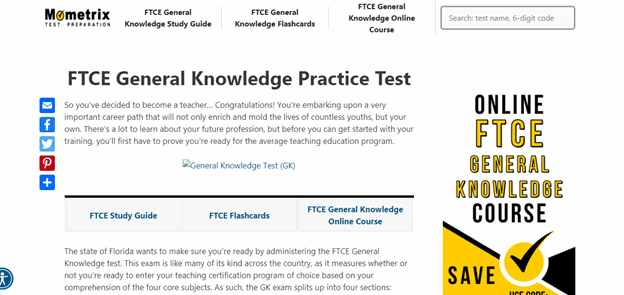 On the Mometrix website, the practice test is carefully examined to make it as real as possible. This way, you can use it to get acquainted with the contents and formatting of the full exam, so you know what to expect when the exam day arrives.
4: TEACHERS TEST PREP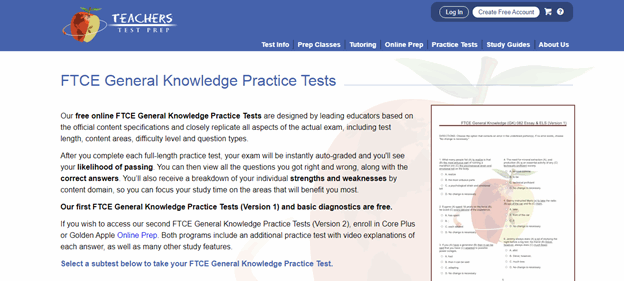 Free online FTCE General Knowledge practice tests of the TEACHERS TEST PREP website are designed by leading educators. Also, it is based on formal content specifications and closely replicates all aspects of the actual test, including test length, content areas, and a variety of questions.
5: PURPLEMATH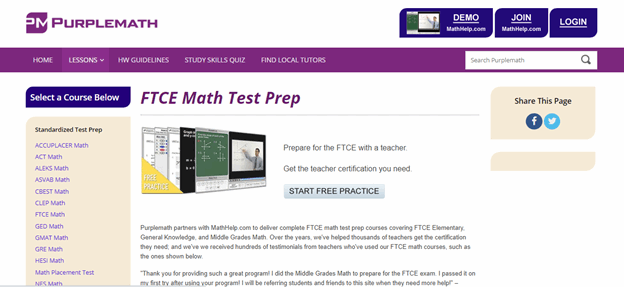 Purplemath is partnering with MathHelp.com to deliver complete FTCE math preparation courses, including FTCE General Knowledge Math. Over the years, this website has helped thousands of teachers get the certification they need.
Best FTCE Math Prep Resource
6: Exam Edge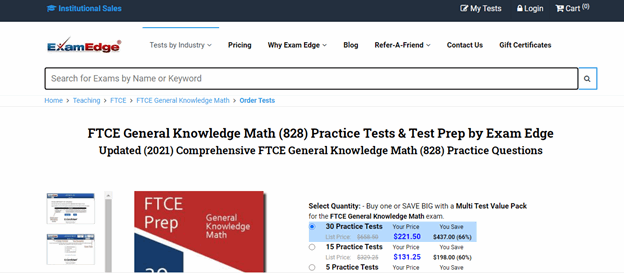 You can take a free FTCE General Knowledge practice test on the Exam Edge website.
7: Varsity Tutors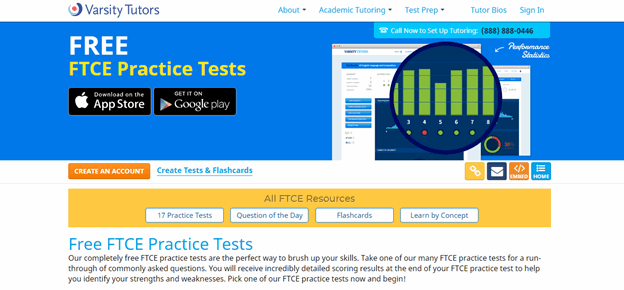 Varsity Tutors website has completely free FTCE practice tests, which is a great way to hone your skills.
8: 240tutoring
This website will answer any questions you may have and tell you exactly what you need to study to pass the FTCE General Knowledge Test.
The Best Books to Ace the FTCE General Knowledge Math Test
Related to This Article