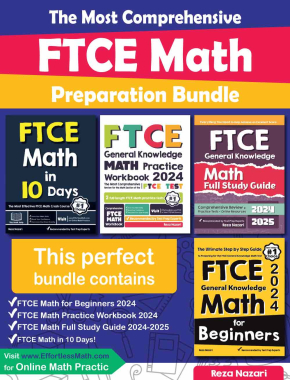 The Most Comprehensive FTCE Math Preparation Bundle
Includes FTCE Math Prep Books, Workbooks, and Practice Tests
The only resource you will ever need to ACE the FTCE Math Test!
If you need to learn it, it's in this bundle! This Complete FTCE Math Test Prep Bundle brings you a thorough review of everything you will ever need to succeed on the FTCE General Knowledge Math test.
+1K Downloads
Teacher's Choice
100% Guaranteed
Secure Checkout
Lifetime Support
The best FTCE Math Prep Resource to help test takers ACE the FTCE Math test! 
4 Products in this Bundle + 1 Bonus File
This comprehensive and complete resource for FTCE Math test-takers contains unique features to help you succeed on the FTCE Math test, including:
Content 100% aligned with the 2023 – 2024 FTCE test
Prepared by top FTCE Math instructors and test experts
Complete coverage of all FTCE Math concepts and topics for which you will be tested
An in-depth review of all FTCE Math concepts tested on the FTCE
Detailed answers and explanations for every FTCE Math practice question to help you learn from your mistakes
Tons of examples with solutions and detailed explanations to show you exactly what to expect on the exam
Complete the list of all FTCE Math formulas you must learn
Full-length practice tests (featuring new question types) with detailed answers
And much more …
Effortless Math: We Help Students Learn to LOVE Mathematics - © 2023