FTCE Test Facts and FAQs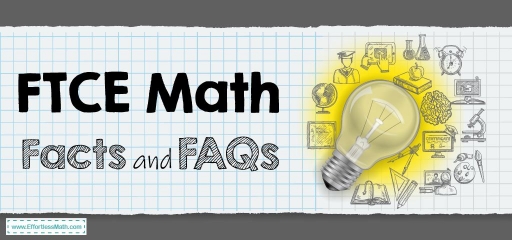 What Exactly Is the FTCE?
The Florida Teacher Certification Examinations are meant to assess aspiring teachers' knowledge of subject matter and competence to teach in the state of Florida, among other things.
Instead of a single exam, the FTCE is comprised of a series of computer-based tests that assess distinct areas of knowledge and skill.
To teach in Florida public schools, a Beginning Effective Teacher Candidate (BETC) must first submit a certification application, after which the Florida Bureau of Educator Certification (BEC) will determine which Florida Teacher Certification Examinations (FTCE) the candidate must take.
The FTCE General Knowledge Test (GK), the FTCE Professional Education Test (PEd), and the FTCE Subject Area Examinations are among the several examinations offered by the organization (SAE).
The Absolute Best Book to Ace the FTCE Math Test
Who should participate in the FTCE?
Each prospective teacher who wishes to be employed in Florida's public schools will be required to take the Florida Teacher Certification Exam (FTCE). However, Florida private schools may not require prospective teachers to be state-certified.
The Florida Teacher Certification Exam (known as FTCE) provides a standard measurement of academic skills that ensure high-quality instruction in Florida colleges and universities. As a result, taking the exams even if they are not required by an employer may be to one's advantage.
A significant point is that candidates must first apply for certification via the BEC and then register an account before they can register for any FTCE test.
Note that the FTCE is intended for classroom instructors, but the FELE (Florida Educational Leadership Examination) is intended for educational administrators, and both exams are listed on the state's official website alongside one another.
FTCE Fee Structure
The FTCE is comprised of multiple subtests, each of which has a somewhat different structure from the others. The vast bulk of the examinations is multiple-choice.
The amount of time allocated for each test version and the number of questions on each subtest differ from one another and from one subtest to the next.
For example, the PEd subtest has 110 questions and a time allocation of 150 minutes, whereas the GK Reading subtest has 40 questions and a time allotment of 55 minutes, and the GK Math subtest has 40 questions and a time allotment of 100 minutes, respectively.
The written performance parts (essays) and/or oral performance sections of several examinations are included as part of the overall testing process. These include the General Knowledge Essay subtest, writing parts of English subtests, and SAEs in foreign languages (Spanish, French, and German).
FTCE Registration and Fees
Individuals are interested in taking one or more of the Florida certification exams may register for such exams up to one year before the actual test date. However, prospective test takers should be aware that registering for an exam is not the same thing as booking an exam session.
After applying to the BEC, candidates will go into their FTCE account to register for the relevant exams (those decided by the BEC). They need to answer some background questions and agree to the testing guidelines before taking the exams.
Next, potential test-takers will need to visit Open Registration to select a testing site, day, and time that works best for their schedules. At the end of the process, candidates must pay for the examination.
Without first selecting a testing site, day, and time, as well as paying the testing money, candidates will not be booked for a test session. The most appropriate course of action at this moment is to have your results delivered to your university or professional development certification program (PDCP).
FTCE provides the ability to cancel or reschedule appointments through the use of the online account management system.
Make sure you register for the proper exam the first time since you will have to cancel and re-register if you need to switch to a different test after you have already registered (rather than simply a different test date).
Within 24 hours of their scheduled test date, prospective examinees are not permitted to cancel or postpone their appointment.
Registration prices vary because each subtest within the FTCE is assessed as a separate charge. It costs $32.50 to take each of the four General Knowledge (GK) subtests (for a total of $130 if you take all four).
The prices for Subject Area Examinations (SAEs) vary depending on the test. Most, on the other hand, charge $150 for the first try, with extra charges for retakes. Among the many instances are the ones below:
Spanish K-12 (039): $150 each semester.
Middle Grades Mathematics 5-9 (025): $150 per student.
Kindergarten through sixth-grade elementary education (060) (four subtests): $150 for all four subtests on the first try; $37.50 per subtest on subsequent attempts (retake).
First-time students taking English 6-12 (013) (two subtests) will pay $150 for both subtests (first try); second-time students will pay $75 per subtest (retake).
Preparation for the FTCE Exam Day
On the day of the test, test takers must be prepared with TWO pieces of identification that are genuine, original (not photocopied), and have not expired. At least one of them must be issued by the United States government, and both must have your photo and signature, as well as be printed in English. It will not be approved if you present identification in a language other than English. Valid identification examples include the following:
A valid driver's license.
An identification card issued by the government.
Identification card for military personnel from the United States (with visible signature).
Passport.
Permanent Resident Card of the United States (with a visible signature).
ID such as a social security card
Student ID.
Work ID.
The following items should not be brought to the testing facility: study aids such as dictionaries, calculators, or other books; pencils, pens, paper, or erasers (these will be provided at the testing facility); food, beverages, or tobacco; weapons of any kind; cell phones, watches, or other electronic devices; recording devices of any kind; wallets, purses, jewelry, or other personal belongings.
Outerwear is acceptable; however, sweaters should be worn with overcoats, jackets, and hoodies because the testing facility may not allow outerwear with hoods and pockets.
Personal belongings can be stored in a safe storage facility or left in one's vehicle. Visitors of any type are not permitted to accompany test-takers at any time.
The Most Comprehensive Workbook for the FTCE Math Test
FTCE Scoring
All of the FTCE tests are pass/fail in nature. The minimum passing score is 200, which is derived from the conversion of "raw" scores to "scaled" scores across all of the subtests that the examinee is required to complete.
Multiple-choice exams, such as the GK Math and Reading subtests or the PEd test, are scored first with a "raw score," which is based on the number of successfully answered questions, and then transformed into a percentage based on the raw score.
To pass a certain test, candidates must get a score greater than a specified percentage (the average passing percentage is around 70, but varies by test).
Tests that are focused on performance, such as written and oral exams, are graded on a point system rather than a percentage scale.
According to the Florida Department of Education, all "raw results" are subsequently scaled and equal "to assure fairness among test forms and to create similar raw scores."
On SAEs, writing portions in English are graded on a scale of 1-6, for a total of 12 potential points, whilst writing sections in other languages are graded on a scale of 1-5 for Spanish and French, and 1-4 for German, for a total of 12 possible points.
FTCE Score Report
A copy of your score report will be available in your FTCE account, and it will be marked as either "pass" or "fail." Scores will also be submitted to your institution or the PDCP if you want to have them reported during registration.
For each subtest or part that you failed, you will receive a numeric score and a full performance analysis report that will help you evaluate your result according to the number of questions you answered correctly.
You have 31 days after your last attempt to retake any subtests that you did not pass on the first try. You will not be able to repeat examinations that you passed for three years after the previous time you attempted them.
The full performance analysis report will not only show you how many accurate answers you received vs how many incorrect answers you received, but it will also show you how you performed in comparison to other examinees.
It is hoped that the report will assist you in developing a study plan that will allow you to effectively prepare for your next exam try.
Preparing for the FTCE is a time-consuming process
First and foremost, you must select which examinations you will be taking to ascertain the information that you will need to understand to begin studying for the FTCE.
Even while you won't be able to predict the exact questions that will be on your exam, you may purchase a test blueprint, also known as an FTCE study guide, that will provide you with a general sense of the structure and style of the test, as well as the knowledge areas that will be assessed.
After going through the test blueprint, you should consider how you stack up against it. To give you an example, the following abilities are assessed in the General Knowledge essay portion of the test:
Create a thesis or assertion that is related to your topic.
Organize your thoughts and details in an effective manner.
Provide sufficient and appropriate support by mentioning a large amount of textual material.
Maintain a constant point of view throughout the conversation.
So, after reading the GK Essay pattern, you should ask yourself the following question: "Is it possible for me to develop a significant thesis? Is it possible for me to arrange my thoughts properly (and rapidly, in a timed test)? Is it necessary for me to be more consistent in my writing?" Then you'll want to create a few sample essays to see where you may enhance your writing talents. Keep track of your time so that you can become accustomed to writing "on demand.
In all other portions, whether multiple-choice, oral performance or written performance, the same principle applies.
When taking multiple-choice examinations, concentrate on your topic knowledge. Make a study companion with whom you can practice explaining ideas, formulae, and reading passages; if you can teach it to someone else, you can almost probably pass an exam on it. You may be required to learn terminology, formulae, and facts as well. Try to keep track of your time so that you can pace yourself strategically on exam day.
The more you practice, the more prepared and confident you will be in your performance.
Make an honest assessment of yourself so that you can make the most of your study time. If you are confident in your ability to answer the English Language Skills multiple-choice questions, don't waste your time learning grammatical rules and vocabulary—move on to the Arithmetic section and practice novel math topics.
Because they are anxious about the forthcoming test, test takers frequently study subjects that they already know and skip over stuff that they need to practice, to make themselves feel better about it. Although this strategy is blatantly paradoxical, practically everyone is inclined to use it.
However, resist the temptation! Strengthening your flaws rather than enhancing your strengths should be your priority.
Best FTCE Math Prep Resource
FTCE FAQs
Is it possible to utilize a calculator on the FTCE?
While examinees are not authorized to bring their calculators, some sections of the FTCE will have an on-screen calculator for the duration of the testing session. In the following tests and subtests, you will be able to use an on-screen calculator:
General Knowledge Subtest 4: Mathematics.
Chemistry 6-12 Subject Area Exam.
Mathematics 6-12 Subject Area Exam.
Middle Grades Mathematics 5-9 Exam.
Physics 6-12 Subject Area Exam.
What is the FTCE's policy on retakes?
The FTCE offers a lenient retake policy, which permits examinees an unlimited number of retakes to pass the examination. For your FTCE exam retake, you must wait at least 31 days after your first attempt.
You must usually retake the full exam; however, if the exam is separated into subtests, you may retake particular subtests that you have previously failed.
What is the scholarship policy for the FTCE?
However, while the FTCE organization itself does not give financial support for exam expenses, there are several third-party organizations that do, assist potential teachers in covering the costs of FTCE preparation and registration, including scholarships.
Candidates who meet the requirements can apply for one of three FTCE scholarships, which range in value from $250 to $500.
Is the FTCE General Knowledge Examination difficult?
The Fundamental Competencies Examination General Knowledge Test assesses the essential abilities that the majority of university students have acquired, reinforced, and utilized.
As a result, if you have been successful in your college coursework and are adequately prepared for test day, you should have no trouble passing the exam.
On the other hand, being overprepared is always preferable to being underprepared on exam day. Learn more about the difficulties of the FTCE General Knowledge examination to ensure that you are well-prepared for the exam topic and the test day itself.
You should also consider using FTCE practice tests and FTCE study guides to improve your proficiency before the exam.
The Best Books to Ace the FTCE General Knowledge Math Test
Related to This Article