Top 10 Tips to Create the FTCE General Knowledge Math Study Plan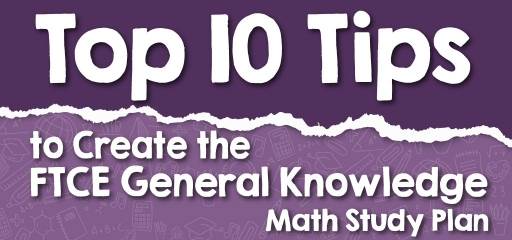 Florida teacher certification candidates have been required to pass the Florida Teacher Certification Examinations (FTCE) General Knowledge test. This test is designed to assess the skills and knowledge of all teachers and school principal candidates to start effective careers as professional educators.
The FTCE math section includes 45 multiple-choice questions assess content in the following areas:
Number Sense and Operations
Patterns, Relationships, And Algebra
Data, Statistics, And Probability
Geometry and Measurement
You must have a study program, to get a good score in mathematics. This plan states to you when, what, and how you can prepare for FTCE General Knowledge math. It also helps you manage your time and make the most of your time for FTCE General Knowledge math. Here are some tips to help you get started with the FTCE math study program. So join us!
The Absolute Best Book to Ace the FTCE Math Test
1- List all the math subjects you need to study
The first step in creating a math study plan is to make a list of all the subjects to study. Putting commitments on paper will help you gain a better understanding of what you need to do.
2- Design a table for better time management
Design a table to make better use of your time. After doing this, you can assign each table column to the FTCE math topic. Fill in the columns according to what you need to read for FTCE math. Keep notes of what you need to study in each session. It helps you stay on track and allows you to get things done faster than you anticipate.
3- Take simulated tests
Once you are familiar with the basics of math, test your readiness for the main test in a simulated test. As you near the main test time, you should take more practice tests. Analyze the math results after taking each simulation test. Analyzing test results identifies your math strengths and weaknesses. Spend more time on your weaknesses and do more exercises. In the practice test, pay more attention to the time! You will not have the problem of lack of time in the main exam.
4- Create a study environment
Mathematics is a subject that requires more focus than any other subject. A good, distraction-free study environment can be a determining factor in solving FTCE General Knowledge math equations! Therefore, studying mathematics in private with light is very important.
5- Hire a math teacher
Studying independently for the FTCE math test is challenging if your overall math skills are poor, so you may need the guidance of a math tutor. In addition, there are tutoring centers and community colleges that offer test preparation services.
Best FTCE Math Prep Resource for 2022
6- Focus on your weaknesses
In preparing for FTCE General Knowledge math, focus on the math topics that were most difficult for you! But do not neglect to study your strengths.
7- Use online math resources
There are many online math resources available to help you prepare for your FTCE math test. You can take online tests that get instant scores, and there are free online math courses you can take. You can find almost all the mathematical resources and assistance that you need at your fingertips from your computer.
8- Memorize formulas well
The FTCE General Knowledge Math Test does not provide you with a list of all the required formulas. You have to memorize many important formulas and this is only possible with practice and repetition.
9- Commit yourself to the study program
Although you may have an attractive program to pass the FTCE General Knowledge math test, be aware that the design of this program does not guarantee its implementation. To get the right result from the FTCE math plan, you should take some time and try to force yourself to run the designed program. After a while, the FTCE General Knowledge program becomes part of your regular program.
10- Slow down about a week before the FTCE test
Take enough time to rest and reduce your study time and get enough rest. Stop studying one or two days before the test. You need to be energetic on FTCE General Knowledge math day.
Finally, keep in mind that while a study program can help you pass the FTCE General Knowledge Math test, it does not answer on its own, and the final success of the FTCE test depends on your willpower, and performance.
The Best Books to Ace the FTCE General Knowledge Math Test
Related to This Article