12 Tools Math Students Love When It Comes to Essay Writing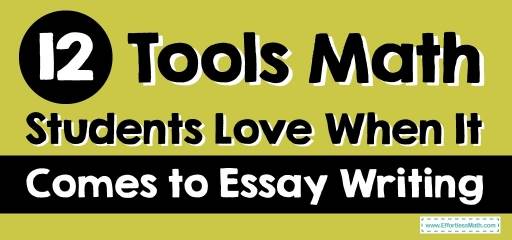 Essay writing as a form of student knowledge control is getting more and more popular. With the rapid development of remote education, nothing is more effective than essays if the goal is to check student knowledge.
Nevertheless, essays are still an ordeal for many students. They keep objecting to academic rules, violating structure requirements, and even ignoring writing instructions. But what if we say that you can deal with it once and for all?
Students seek different kinds of academic help. They ask family or friends for advice, look for academic assistance online, download apps, and even ask their peers to collaborate with them.
One of the most popular ways to deal with essays is to hire professional college essay help by EssayPro and get experts' opinions. You will not only get a guarantee of quality but also win some time for yourself.
Today, our mission is to help students learn all the tools necessary for successful essay writing and feel confident about this skill. That's why we decided to share a few valuable instruments with you. Read on for the list of our favorites.
1- Grammarly
Quick and easy grammar help is facilitated by Grammarly. Unique AI technology is taught to understand your writing style.
It helps adapt changes and improvement suggestions according to the purpose of your writing. In addition, Grammarly easily detects all grammar and spelling mistakes and highlights them for you.
This tool is advancing rapidly. Within just a few years, an ordinary grammar checker has turned into a machine that upgrades your writing to a brand-new level.
It's now used by schools as well as by businesses and state offices. Moreover, the service is quite affordable.
2- Purdue Online Writing Lab
If you are confused about referencing styles and their details, the Purdue website is there to help. This is one of the best resources to get information on MLA, APA, and Chicago peculiarities. It contains lots of examples and explanations on how to generate proper in-text citations and references.
The abovementioned styles are the most popular. They are used by a majority of educational institutions in the English-speaking world.
If your assignment suggests using a different approach to referencing, instructors must provide you with a guide. If there is none, you may choose from the ones explained by Purdue.
3- Citation Generator
Students are often bored with citation generation. All these dots and commas can make your head go around. A citation generator is a tool that may help you avoid this ordeal. It can create a beautiful reference for your works cited page, provided you have all the necessary information.
However, these generators may use outdated rules. That's why it's better to check automatically generated citations before using them.
4- Vocabulary
Word choice often becomes an issue for students. When we talk, we often use certain patterns and don't pay special attention to the words. It doesn't matter much as long as others can understand us.
When it comes to writing, vocabulary is very important. However, selecting a word that fits the context the best is hard. If failed, it can lead to miscommunication or wrong message delivery.
5- Thesis Builder
Thesis statement writing is another common problem for students. Being the main hook for the whole essay, a great thesis statement is 50% of your overall grade. That's why students are especially happy to have a tool that can help them create a perfect statement to start their essays.
Thesis builders are very helpful if you are required to write about something you don't feel passionate about. In this case, a tool can provide an idea that you can further develop.
6- Hemingway Editor
Readability is one of the biggest concerns students have in academic writing. Many of them think that if they are supposed to write for a school, it must sound very scientific and difficult.
Indeed, academic writing is different from creative writing or journalistic writing. However, it should still be engaging and interesting.
This tool helps detect too difficult sentences and constructions that need your special attention. You can either split them into parts or think of alternative methods to make your text flow.
7- Paraphrasing Tool
Even if you are a vocabulary guru, you may still find yourself in a situation where you can't find the right words to paraphrase one's idea.
For example, you use another author's ideas to strengthen your opinion. However, you lack words to paraphrase and then reference them appropriately. In this case, a good idea is to use paraphrasing tools to avoid plagiarism.
8- Plagiarism Detector
Do not ever forget to check your essay for plagiarism. This is the worst thing that can happen to you as an author.
Moreover, you may be 100% sure that you did not use any borrowed ideas, but your work may still be highlighted as plagiarized. This can happen because you've read a book that stayed in your memory or used phrasing generally encountered in your field.
Plagiarism detectors help the student writer save their reputation as plagiarism can often lead to serious problems. That's why it's essential to find a reliable plagiarism checker and use it whenever you plan to submit a file.
9- Word Counter
Many academic essays require a certain word count. Any words in deficit or excess are considered a violation of professors' instruction. Word and Google Docs, however, often show a different number of words for the same text. So, what should students do?
They choose to use word counters to make sure they stay within the lines. These programs are often more accurate. If the text exceeds the limit or doesn't reach the lower threshold, you will know to rework some parts of the essay.
10- Essay Title Generator
For those essays where students are allowed to choose their titles, essay title generators are a must. Of course, you can always choose a basic title for your essay. Or you can spend hours creating the best heading for your text. Essay title generators can cut this time by offering several options which you can further enhance.
11- Summarizer
Sometimes students find it hard to summarize the essays they create. The conclusion, however, is a summary of the main ideas of the essay. Without it, the whole text looks incomplete.
A summarizer helps find the key ideas in the text, highlights them, and creates a summary that can be further improved. It does not provide a ready-to-use product. Yet, it's still easier to use some ideas rather than create a summary on your own.
12- Essay Help Websites
Last but not least essay writing tool used by students is an online academic writing company. Students can order essays if they feel lost with the topic or lack time to complete the assignment on their own. However, not every student is ready to pay money for the service.
For those who are not willing to spend their hard-earned money, these websites are still useful. They have various essay writing tools and offer study materials for free. For example, they often have a great selection of essay samples that you can rely on in your writing.
Takeaway
These and many other essay writing tools are used by students worldwide to enhance their writing and impress their professors. These instruments largely help in perfecting academic essays and making them up to standards. We highly recommend using them as a help in your writing to ensure you avoid making mistakes that can negatively affect your overall grade.
Related to This Article