The Ultimate 7th Grade DCAS Math Course (+FREE Worksheets)
Imagine being on an endless quest, searching through the vast world of educational resources for an all-in-one, far-reaching course to ready your students for the monumental 7th Grade DCAS Math exam. Imagine no more, for you have found your treasure!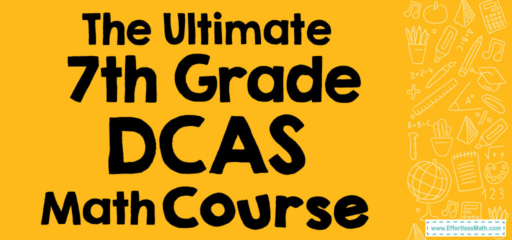 If your heart yearns to see your students excel in the 7th Grade DCAS Math Course, this complimentary course is your magic carpet. It promises to instill in them every significant concept of the test, and all this will be done before the ticking clock counts down to the testing date.
Picture a course so perfect, it's as if it was hand-crafted by the gods of Mathematics themselves, incorporating every concept linked to the 7th Grade DCAS Math exam.
Our top-tier DCAS Math Course is the only arrow your students will need in their quiver when they step up to the mark for the 7th Grade DCAS Math exam. This DCAS Math Course, alongside our selection of Effortless Math Courses, is the trusty steed ridden by thousands of annual DCAS exam-takers. It serves them in reviewing fundamental subjects, honing their mathematical skills, and spotlighting both their weak and strong points, thus positioning them to hit the bullseye in the DCAS test.
Study at a pace as steady or as swift as you please, devoid of rigid schedules! Each lecture is a treasure trove of notes, real-world examples, beneficial exercises, and interactive activities designed to help students master every DCAS Math concept with ease. Follow the map – the instructions for each lecture – and watch as your students ace the 7th Grade DCAS Math examination.
The Absolute Best Book to Ace the DCAS Math Test
7th Grade DCAS Math Complete Course
Rational Numbers
Integers Operation
Decimals Operation
Fractions and Mixed Numbers Operation
Proportional Relationships
Rates and Ratio
Percents
Price problems
Geometry
Probability and Statistics
Equations and Variables
Geometric Problems
Inequalities
Statistics and Analyzing Data
Looking for the best resource to help your student succeed on the 7th Grade DCAS Math test?
The Best Resource to Ace the 7th Grade DCAS Math Test
Related to This Article