Best Note-Taking Tablet for College Students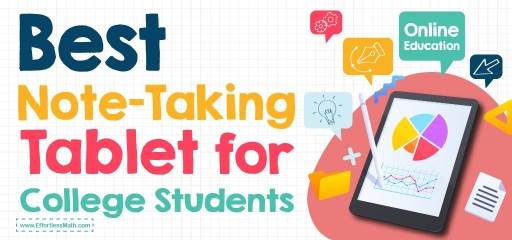 Note-taking tablets are the best alternative to laptops. It is also a great way of moving away from old pens and papers. You'll no longer have to deal with looking for a pen and dealing with paper clutter, and lack of organization.
A good quality note-taking tablet will transform the way you work as a college student. Not to mention the ache in your hand from hours of writing down information. Note-taking tablets are super lightweight and very portable.
Have a full range of flexibility from color coordinating to organizing your work. Your notes will be more clear giving you complete control over everything you write down on the tablet. With note-taking on a tablet, notes can be smooth, easy, and fun.
The most important thing to look out for with a note-taking tablet is the screen size. You want to have full range and flexibility with the screen.
The tablet memory must have high-capacity storage. The connectivity must efficiently be able to connect to Wi-Fi and switch to cellular easily.
1- iPad PRO 12.9-inch with Magic Keyboard and Apple Pen
Take your note-taking skills to the next level with the iPad Pro 11 Plus.
The Pro 12 allows you to take notes, play video games, record, and research information with the powerful M1 processor also found in an iMac computer.
Get the best use of the 12.9-inch display screen. Multitask with a smooth 120-hertz refresh rate screen.
The liquid retina XDR will create Ultra-high-definition images. Shift between the white magic keyboard to type out your work.
Connect other devices and external drives superfast with the thunderbolt.
The iPad comes with Wi-Fi 6 and 5G for the best streaming experience. Get up to 10 hours of battery life with iPad Pro.
Use the advanced ultra-wide cameras to take videos and pictures of notes and classroom work. The apple pencil makes writing and drawing effortless and fun.
The tablet is perfect for someone who already has a computer and wants to take a more minimalistic study approach.
2- HP Envy X360, 15.6″ Backlit Keyboard Windows Ink Win 10
HP x360 is a very versatile laptop/tablet. The well-lit keyboards will allow you to type out information fast in a dark environment.
Read documents and highlight information. The HP X-360 has a smooth reclining function.
Work diligently and fast with the powerful 8th-gen Intel processor Core i7 85 65 u Quad-core processor.
Expect high multifunctional performance every time with the X360. Do a little bit of everything with this powerful tablet.
Have full control over your notes and daily tasks with the 15.6 in 1080P IPS micro-edge display.
The surface of the HP X-360 is touchscreen in both tablet and laptop mode. With Windows Ink support, the simultaneous touch support highlights and circles information. Use a stylus or your fingers all at the same time.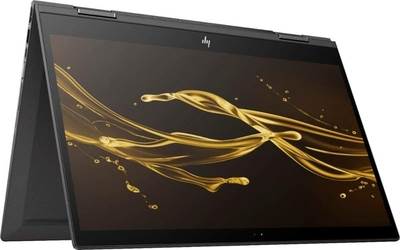 3- Samsung Galaxy Tab S7
The Samsung Galaxy tablet 7 is highly functional with a professional design. Whether you are taking a zoom call or phone, the speakers can quickly pick up your voice.
Draw or write fully with the bright and vibrant thin-bezel display. The fast, responsive screen has a 120-hertz refresh rate.
The pen can be neatly tucked away, at the back of the tablet. You will never lose the pen because the auto-location magnetic holders will secure the pen in place.
You can easily take notes, edit videos, and draw. Put your creative and productive desires to the test with this super easy-to-use responsive pen. The pen feels like an actual real pen. It's very lightweight and has a polished exterior.
The 12.4-inch surface gives you ample workspace to write down classroom notes. The Quantum SM7225 Octa-Core processor makes it easy for you to launch different apps as well as entertainment apps.
The high storage memory will allow you to save all of the most vital classwork.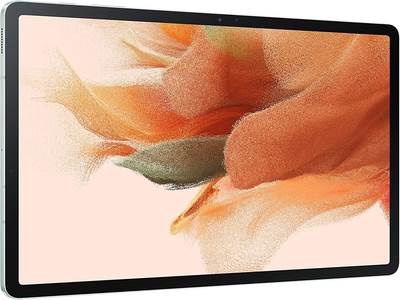 4- Microsoft Surface Pro 7 Intel Core i5
The solid design Microsoft Pro 7 tablet will not let you down. This tablet is very sleek and super thin.
Perfect for anyone in college or high school looking to move away from the traditional notebook and pen lifestyle.
The Microsoft Pro 7 includes 8th gen Intel processor, that navigates the tablet, and performs your daily tasks.
Surface Pro is super small and has a slim design that allows you to slip the tablet out of your bag and store it even in the tightest spaces.
The surface pen is more refined and easy to use to draw or write detailed notes. The operating system is Windows 10.
The tablet weighs about 1.7 lb, so it's very lightweight and effortless to pick up. The 12.3-inch screen allows you to have full surface space to write out notes.
The total storage of the hard drive is 256GB SSD runs superfast and stores all information. The battery life lasts up to 11.5 hours for a full day of work.
It is a great tablet for someone who doesn't need a laptop because they already have a desktop and just want to be more organized in a modern digital way!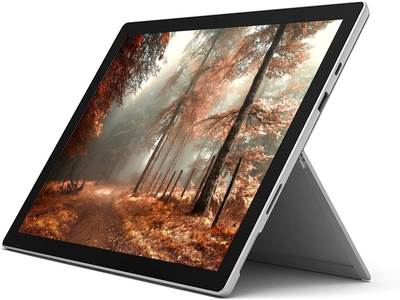 5- New Microsoft Surface Go 2
College students that need an affordable laptop should consider the Surface Pro 2.
This tablet is just more cost-effective and does everything that an actual computer does. Read over your notes with 1920 by 2080 resolution. The Pro 3 has an Intel Core m3 processor.
Includes 8GB of RAM 128GB of storage and lick connectivity. These features will allow you to run through your daily tasks, write down notes, and browse the web all at the same time, and be a safety net of high-capacity storage.
The Surface Pro 2 will allow you to install almost any Windows app that you want. The Pro 2 is perfect for college students with a work-happy schedule.
The tablet Waze is 1.2 lb and has a battery life of up to 10 hours so you can get all your work finished with this tablet.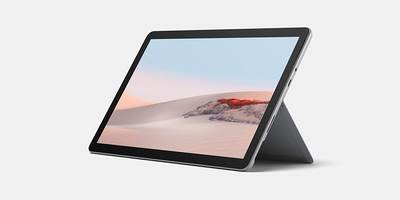 Related to This Article