7 Best Digital Pen Tablets for Online Math Teaching in 2023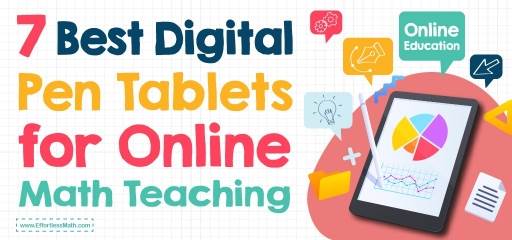 If you are teaching math classes online or providing math tutoring, you need to convey complex math equations and diagrams to students quickly and often on the fly. We are providing you with a list of the 7 best digital pen tablets for online math teaching in 2023.
Why would you use a digital pen tablet? You can try to use a conventional whiteboard and hope your students can see everything via the webcam.
You could even try to use an online whiteboard with your mouse, but that becomes difficult to be quick and accurate.
You may even try to fall back to pen and paper, but that could be messy, and you need to readjust your webcam so students can see it.
The better approach is using a digital writing pad with an online whiteboard to freely write and draw what you want to convey. Then, your students can see everything on the screen clearly, and with minimal fuss.
Our List of 7 Best Digital Pen Tablets
Huion Inspiroy Dial Q620M – BEST premium pen tablet with all the features you need
Huion Inspiroy Ink H320M – Best dual mode pen tablet
One by Wacom – Budget pen tablet providing the essentials only
XP Pen Star G430S – Our cheapest pick while still being a reliable pen tablet
How to Pick the Best Pen Tablet for You
Picking the best pen tablet for you will depend on your budget, how often you plan to use the device, and any specific features you want or need. You also need to look at the reliability of the pen tablet; if your device is unreliable, it doesn't matter how much it costs or what features it has.
Often online reviews will have complaints of any reliability issues with the device you plan to purchase.
If you don't specifically need a display on your tablet, then you don't need to pay a higher price for one.
You will want to look at the styling device to ensure it will be comfortable to hold and use. It will be cumbersome if it's too small; if it's too large and bulky, it can also get in the way of drawing accurately.
The drawing surface is also essential. How much space do you have on your desk for this device? How large and complex will the drawings be? Bigger is often better, but that usually means more real estate on your desk and a higher price.
Final Thoughts
A digital pen tablet can enhance the teaching experience for your students at a minimal cost. Being able to accurately and quickly draw or write what you want to convey to the students and have it appear on their screen makes the teaching experience much easier and quicker.
We've provided 7 of the best digital pen tablets for you to review further. So whether you're looking for the basics or a premium option, we have you covered in this list.
Related to This Article