The Best Tablets for Math Teachers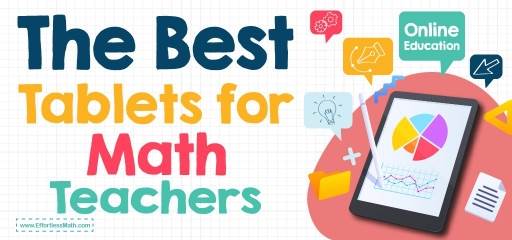 Digital technology has become a math teacher's best friend these days. Being able to use this kind of tool to help reach more students and to be able to show them how important math is.
In years past far too many kids did not realize how much math truly plays in their lives. While most young kids see math as a very boring subject, thanks to tools like a small, portable tablet, they can change their minds about math.
For this article, we came up with five tablets that we identified as the best of the best. We came up with a brief review of each of them in hopes to provide enough valuable information. They are not in a particular order, but in the end, we will pick a clear winner in our opinion.
Top 5 Tablets for Math Teachers
1- Apple iPad Pro
The Apple iPad Pro is a high-quality tablet from one of the industry leaders in the mobile device market.
The iPad Pro is a powerful mobile computing device that makes it possible to do a lot of things without being tied to a desk.
It is packed with numerous features and functions that make it a great choice for teachers.
The iPad Pro features a large, high-quality 12.9" Liquid Retina display and plenty of storage space (1TB hard drive) for apps and data.
It includes a pair of high-quality cameras for recording video and FaceTime communications. With its 12MP camera on the back and the 7MP camera on the front, you will be able to capture high-quality video and hold flawless video conferencing.
It can be both WiFi and data plan enabled to keep you constantly connected no matter where you are at.
It also features Apple iOS mobile operating system which is packed with features and functions too numerous to mention.
2- Galaxy Tab S7 with S Pen
The Samsung Galaxy Tab S7 with S Pen is a high-quality mobile device that can be used anywhere.
The included pen enhances the user experience and is perfect for classroom use. Using special software that interprets the handwritten characters on the screen and translates them into text.
It also allows you to directly edit photos, edit text and create content from scratch.
The beautiful, large 11" screen is amazing looking and shows off the capability of the processor and built-in graphics.
It features a pair of cameras (front and rear-facing), built-in speakers, and microphones for conducting video conferencing like Zoom Calls.
No need to plug in external devices, just launch the software and you will immediately be ready to conduct your video classes.
It uses the latest Google Android OS, which is jam-packed with so many useful apps. With a 1TB hard drive, you can download so many apps and store tons of data files.
3- Apple iPad Mini
The Apple iPad Mini is exactly as the name says, it is an iPad, but only a smaller size package.
The Mini packs all of the normal features and functions of a full-sized Apple tablet, only much smaller in size.
Keep connected with either WiFi or a 4G LTE cellular service plan. To enhance your user experience it now supports the Apple pencil.
The Apple iPad Mini is a high-quality tablet from one of the top mobile device companies in the world.
The 7.9" Retina HD touchscreen display delivers high-quality images and videos. It runs on Apple's mobile iOS operating system.
t also supports high-quality front and rear-facing cameras that work in conjunction with Facetime and with 3rd party video conferencing.
The battery life is on par with the other higher-end tablets and boasts a 10-hour life between charges.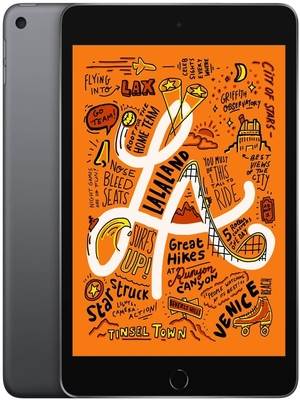 4- Microsoft Surface Pro 7
The Microsoft Surface Pro 7 Tablet is for the teacher who is partial to the Windows operating system.
It features a fully functional Windows 10 operating system and all the bells and whistles that come with it.
It also comes with a pen and can be fitted with a detachable cover/keypad. This allows it to convert into a laptop and back to a tablet in seconds.
This latest version of the Surface Pro features a high-powered mobile Intel processor that is twice as fast as the previous model (Surface Pro 6).
It also has a blazing-fast 128GB hard drive which is large enough to store tons of apps, and personal data.
The front and rear-facing cameras and built-in microphones and speakers make it the perfect video conferencing tool.
It has a very large, 12.3" touchscreen display that allows you to draw directly on the screen using the pen.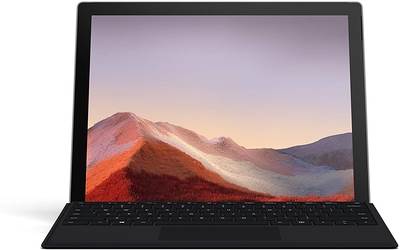 5- Lenovo Tab M10 Plus
The Lenovo Tab M10 Plus features a powerful 8-core processor decent amount of RAM and storage.
Lenovo offers several different variants with a wide range of memory and storage configurations.
The high-quality 10.3" HD touchscreen delivers high-quality graphics. Front and rear-mounted cameras, built-in microphones, and side-mounted speakers make it a real choice for math teachers.
The Tab M10 Plus is powered by the MediaTek Helio P22T Tab CPU, which is an Arm Cortex-A53-based processor that is capable to handle a wide range of powerful features and functions.
It has support for dual webcams with high resolution and low light capabilities.
The Tab M10 runs on the current Android 9 Pie OS and is filled with numerous apps and plenty of room to download more.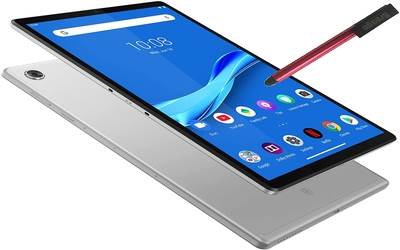 Related to This Article