Your Quick Guide to the Best Tablets for Teachers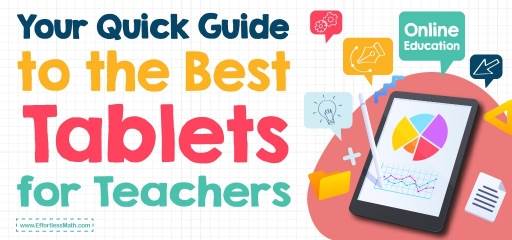 From preparing lessons for the next day to effectively communicating with students' parents, tablets are there to help you manage several things within and beyond your regular teaching regime.
And if you don't find it convenient or efficient to work on either huge PCs or small-screen smartphones, tablets are your go-to option.
With an influx of tablet options available in the market, it can be challenging to make a buying decision. However, the most important factors when buying this gadget include storage capacity, operating system, connectivity, user-friendly design, and battery life.
To make it easier, we have selected the best tablets to make teaching more enjoyable and less complicated.
1- Apple 12.9-inch iPad Pro
This gadget needs no introduction. It sports a 12.9-inch screen, a powerful battery that lasts for 10 hours, and a 12MP back camera for crystal-clear visuals.
You cannot go wrong with this gadget because its up-to-date and innovative technology will enhance your efficiency and let you do more in less time.
The superior features like the Apple Pencil smart keyboard make it easier to make notes while you commute.
You can further choose between the storage capacities of 128GB, 256GB, or 512GB, depending on the nature of your work.
The gadget also lets you connect to two different options: Wi-Fi enabled only or Wi-Fi+ cellular as per your preference.
2- Amazon Fire HD 10
This tablet is suitable for people who are investing in tablets for the first time. It includes 10.1-inch, 2MP front and back cameras with flawless 720p HD video recording and a battery life that last up to 12 hours.
You can choose between 32GB or 64GB internal storage options and can extend it up to 512GB with a microSD card.
The gadget increases your productivity up to 3 times because of the exclusive 2.0 GHz octa-core processor and robust RAM of 2 GBs.
And not to forget, you just need to instruct or order Alexa to open a specific chapter or schedule a call for your next meeting.
3- Samsung Galaxy Tab S6
Get the dual benefits of tablet and computer desktop with this 2-in-1 tablet. It's not only light-weighted but also its super-fast mobile processor will make your entire browsing experience better.
With the S Pen, you can easily sign important papers, mark up documents, and make notes on the go.
You get a power-packed battery that lasts long up to 15 hours and Bluetooth connectivity V5.0. Take a break from your teaching zone and immerse yourself in entertainment with a Super AMOLED display, quad speakers, and ultra-powerful speakers.
4- Huawei MediaPad M5 Lite
If you are on a budget but still seeking a high-end gadget, feel free to buy this one.
It's not only cost-friendly but is also equipped with quad speakers that come optimized in different audio effects and provide you with magnificent 3-dimensional surround sound.
Its slim and light-weighted design gives it a classy look, and its M-Pen lite Stylus lets you create important notes and documents with ease.
You can fully charge its battery in 2.9 hours and watch 1080P videos for up to 12 hours. Also, its innovative eye-comfort technology ensures that your eyes stay protected from damaging blue light.
Related to This Article