Best Tablet Floor Stands For Online Teaching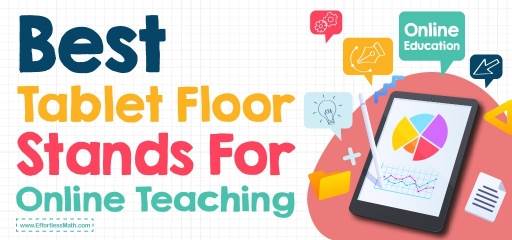 This article contains the 5 Best Tablet Floor Stands for Online Teaching
"Sorry, we'll get started soon, we are facing some technical difficulties", everyone knows the troubles of setting up for virtual meetings. One of such hassle is in getting the right stand.
With your tablet or device secured in place, you have the freedom to demonstrate and make important gestures in your live classes, virtual meetings, or video recordings.
In this article, we'll discuss the best tablet floor stands for online teaching, but before then, let's look at the things to look out for.
Things to look out for
In your quest to buy the best tablet floor stands for online teaching, most of the things to look out for are stated below
The stand should have Gooseneck and Swivel Arms for flexibility.
The stand should be high enough to hold the device at head height or at least at arm's height.
The stand should be strong and well balanced, with a height pole that you can easily adjust.
The clamp or mount can change orientation across landscape and portrait modes.
The Holder of the stand should be flexible enough to allow the tab to face up and down directions to deliver perfect recording angles.
The Mount for your device should accommodate and clamp your device just enough to keep it from slipping off.
Ensure that the full stand is strong and steady, so it does not shake or overturn while in use.
Ensure the stand is portable, and can easily be collapsed and pack to move anywhere, any day.
5 Best Tablet Floor Stands for Online Teaching
1- Lamicall Tablet Floor Stand With Gooseneck
Lamicall Tablet Floor Stand comes with all the flex you can ask for, with an adjustable gooseneck and clamps big enough to support 13-inch display tablets.
The gooseneck is made of sturdy metal in a flexible tube, one end on the stand and the other connects to the clamp via a supporting ball joint. This stand is fully rotatable (360°), and can also be adjusted to any height that you want, standing on a strong and steady base.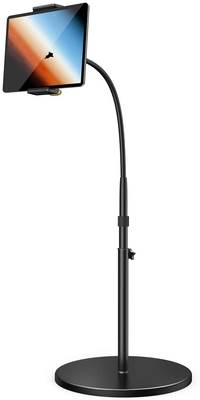 2- CTA Digital: Adjustable Height, Gooseneck Stand
CTA Digital Gooseneck Stand comes with small wheels, a fixable clamp, a basket case, and an accessory tray. The height can be adjusted, along with ranges from 46-60 inches.
The Mount will take devices ranging from 7-14 inches. It is important to note that rotation is limited to the gooseneck alone.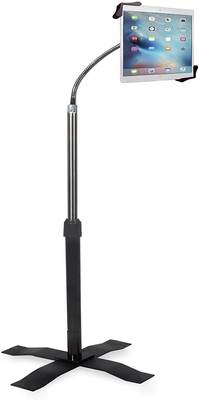 3- T-SIGN I Pad Collapsible & Portable Tripod Tablet Stand
Looking for something rigid? You've come to the right place. T-SIGN tripod tablet stand sacrifices a bendable gooseneck for a fixed clamp on a rotating ball joint. The pole has 4 segments, with an adjustable height.
The clamp is diagonal and it is foldable and portable. T-SIGN comes with Bluetooth remote control for video and camera shutter controls and a smartphone holder.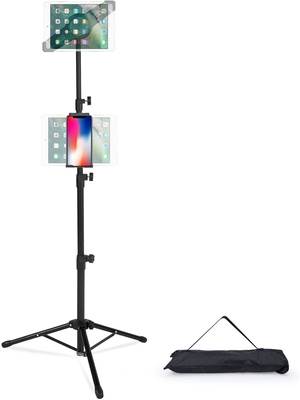 4- Mindsky Gooseneck Tablet Floor Stand
It has a long arm cell phone holder with Gooseneck. 7-13inch Tablet iPad, such as iPad Pro/Mini/Air, Samsung Galaxy Tab, etc can be mounted on it.
Mindsky Tablet floor stand is compact and portable but comes with flexibility as well. This stand can be dismantled and fold-up to move as quickly as it can.
The total height of 54 inches combines the height of a strong 34.2-inch rod and a 20-inch gooseneck.
Not recommended for crowded places in order not to risk being toppled over. The reason is the floor base has only two support rods.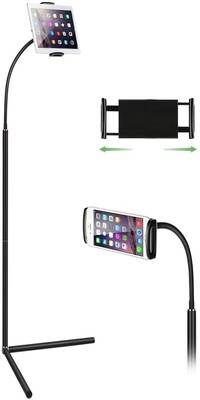 5- Idee Arms-Height and Angle Flexible Tablet Floor Stand
That 360-degree rotation you desire can be done with this floor stand. It can be used for devices such as iPad Pro/Mini/Air, Samsung Galaxy Tab, e-Books & More.
Idee tablet stands tall at 44.75 inches with adjustability to spare ranging from 22.1 inches to 44.1 inches. The base weighs 9.6lbs for top stability. The arm which has three compartments affords a two pivot stand.
At the top of the arm is the tablet clamp with a joint that can turn upwards and downwards. Can hold devices from 7-inch up to 13-inch displays.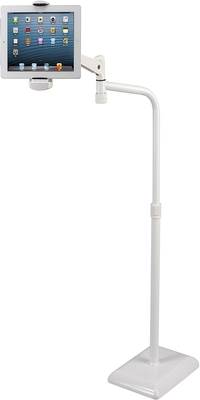 Conclusion
We've reached the end of our list for the "Best tablet floor stands for online teaching". We named five for you so that you might have options to choose from. So, ensure you pick one of these and get the best experience teaching online.
Related to This Article