5 Best Touchscreen Monitors for Teaching Online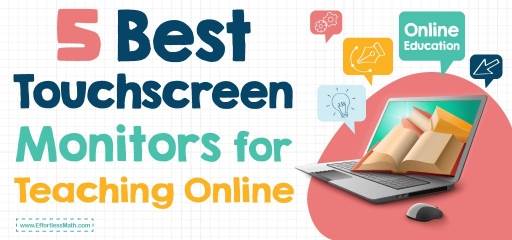 The most outstanding remote learning monitor for instructors is something that can make home-class adaption much easier. Finding the ideal monitor might help to give a new viewpoint on remote learning.
Teachers must conduct class from home more frequently now that remote learning is becoming widespread. In many cases, the equipment is insufficient, with only a tiny laptop screen available.
1. Best overall monitor: BenQ EX3203R
In terms of quality, performance, and affordability, the BenQ EX3203R monitor is the best. As a result, it's an excellent choice for at-home remote teaching.
With a screen size of 31.5 inches and a resolution of 2,560 x 1,440 pixels, and a wide 16:9 aspect ratio, it can fit a lot on it. In essence, Users may comfortably view an entire Zoom class without the need to squint.
This display is also curved, allowing for a more comfortable viewing angle and immersion.
It's also designed to gaming standards, with a four-millisecond response rate that ensures a seamless video feed even when there are many active kids on one screen.
2. Samsung C27F398 27-inch: Best budget monitor
The Samsung C27F398 27-inch monitor comes with many more features than its pricing suggests.
The curved 16:9 display has a good 1,920 x 1,080 resolution and can display beautiful colors at 97 percent of the sRGB color spectrum.
It also has a high contrast ratio, resulting in well-defined images suitable for displaying faces on video windows.
Thanks to VA panel technology rather than IPS panel technology, which is often seen only on more expensive displays.
3. Best 4K and HDR monitor: LG 32UK550-B 32-inch:
This list could have easily included the LG 32UK550-B 31.5-inch display at the top.
It's reasonably priced — given the specs – and features a large 31.5-inch screen with 4K resolution (3,840 x 2,160).
However, HDR10 can also produce a high contrast ratio and a 10-bit color depth. All of this adds up to a crystal-clear image.
4. Best portable monitor: Lenovo ThinkVision M14
The Lenovo ThinkVision M14 is a one-of-a-kind screen that offers more portability than any other on this list.
Although it isn't very huge at 14 inches, the 1,920 x 1,080 resolution provides high-quality viewing with enough clarity, especially for larger video classes.
The benefit is that it can be moved from room to room or into the classroom, giving it more versatility. When used in conjunction with a laptop, it can provide enough space for numerous screens, windows, or programs to be open simultaneously.
5. Best premium monitor: Dell UltraSharp U2720Q
The Dell UltraSharp U2720Q is a high-end, high-resolution 4K display for those who demand the best. Despite this, the pricing is lower than top-of-the-line displays with identical specs.
It has a high-quality build and screen, as well as several connectivity possibilities. DisplayPort, HDMI, two USB Type-C, three USB 3.0, and one Audio line-out are all options for connecting to this display. You may also utilize the USB-C to charge a laptop or phone quickly.
Looking for a portable laptop monitor? Whether you're looking for a secondary screen for everyday personal use or for completing school work on the go, DUEX Lite is a lightweight, slim, portable solution.
Related to This Article