Touchscreen Monitors for Online Teaching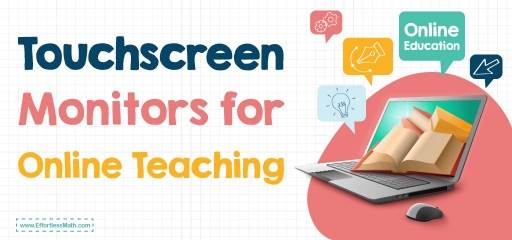 The world is slowly but surely going back to normal. But that doesn't mean that online classes are not growing. More teachers now can teach from home. This is because touchscreen monitors have so many more features. These monitors can replace whiteboards, books, and some software.
This complete guide will tell you everything you need to know about the nuances of touchscreen monitors and how they can improve your professional life and all of their features.
Replace that Whiteboard
The whiteboard is being replaced fast. No more will teachers have to ask students to pull down the window shade due to the glare. Do you know the whiteboard that you mark on with dry-erase markers? It's an upgrade from the chalkboard, which is more messy and dusty.
The whiteboard was just as messy, too, because you had to wipe the dry erase off. Don't get me started on the projector! That thing never worked. Well, look no further. The touchscreen monitor is going to replace the whiteboard.
First and foremost, the touchscreen monitor is not messy. Essentially, it's a digital monitor that has a computer display with an input device. The screens are very sensitive to pressure. You can interact with the monitor by touching pictures or words and leaving digital markings wherever. The monitor also has an erase function.
The touchscreen monitors also piers well with myViewBoard classroom, cell phones, and tablets. The board can connect easily with devices and ports.
According to an article from openaccessgovernment.org titled: Interactive touchscreen technology can improve student engagement states as they transition to learning in the classroom, these modern students expect the same highly engaging and interactive environment in the classroom.
Meanwhile, schools that have yet to transition into regular classrooms miss out on the opportunity to involve kids further.
Touch screen monitors help students become more engaged with the lesson.
Application
Touchscreen monitors are better because it allows you to draw, swipe, watch videos, and use apps, easily with your fingers or a pointer. The monitors are bigger, and it also functions with PC, which is great for learning because the larger the screen, the more students will interact with the subject and what is being taught to them.
Full Screen
Students are more likely to be interested in the bigger screen.
You can hook up your computer and interact with the monitor through the keyboard. Touchscreen monitors also give you the luxury of moving away from the keyboard and mouse.
Mobility: instructors can move around freely without worrying about running out of room. Instructors write as much as they want on the monitor and still have room. Students can see the full picture.
Easy to use. Just point to whatever application you want to open.
Monitors are much faster than using a mouse or your keyboard.
Not to mention you can also use video chat, text, grade lessons, prepare a lecture and send notes to students.
Here is What to look for in a Touchscreen Monitor
People usually do not buy touchscreen monitors for homes, but it can improve your work life and the way you interact with students, so here is what to look for:
The size will touch screen monitor be adequate size.
Super Clear Quality Display
IP Technology & Solutions is a liquid crystal display that gives you clear natural images. It was designed to combat the limitations of solid viewing, angle dependence, low quality, and poor color production.
IP technology is extremely important in touchscreen monitors because it helps make the imagery crisp and natural.
This type of technology in touch screen monitors is excellent for watching movies, designing, gaming, end viewing images because you're getting a crystal-clear picture. So, when looking for a touchscreen digital monitor lookout for one that has IP technology.
Multi-Touch Capabilities
Interactive touchscreen monitors make it easy for teachers to switch between different screens. Touchscreen monitors are the future. 
Furthermore, the touchscreen monitor typically has other software inside it that allows teachers to engage more with the students and improve the overall lesson plan for the day. There are features where you can transfer the activity to your cell phone from an interactive monitor.
USB- C Port
The USB-C Port is used to transfer power extremely fast to other devices. The Port is also used to charge portable devices, and it has multiple little connectors on it allowing you to connect many devices. The cable takes about 2.5 watts of power, just like the USB-A port.
USB-C Port is the perfect tool to use when trying to link your computer to the touch screen monitor. Modern touchscreen monitors only require one  USB-C Ports cable, whereas older monitors need two cables to connect all devices fully.
Press input data and output So that the monitor will register with the computer. With the USB C Port, you only need one cable, saving you time and space!
| | | | | | |
| --- | --- | --- | --- | --- | --- |
| RANKING | #1 | #2 | #3 | #4 | #5 |
| | | | | | |
| | Dell UltraSharp U2720Q | Samsung C27F398 | BenQ EX3203R | Lenovo ThinkVision M14 | LG 32UK550-B |
| Price | CHECK PRICE | CHECK PRICE | CHECK PRICE | CHECK PRICE | CHECK PRICE |
To Conclude
Touchscreen monitors are the future. These new Advanced monitors can help to transform the experience of interactive teaching. Teachers can get through lesson plans smoothly without any interruptions.
Touchscreen monitors are more economical because teachers save money on supplies like chalk, paper, dry erasers, and dry-erase markers. These interactive monitors have a dual-interactive feature that allows teachers to make presentations, take notes, and watch videos all at once. Touchscreen monitors are a step in the right direction, and every teacher working from home needs one.
Touch screen monitors have been linked to improving how a classroom functions and how students learn. It also helps make the lesson plan and everything run smoothly.
Related to This Article