Best Smartphones for Math Teachers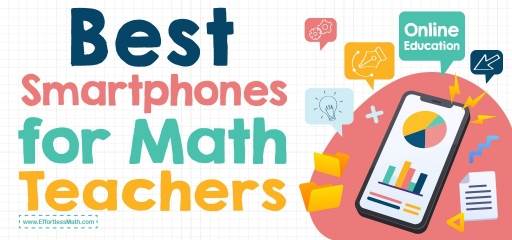 In an online and portable world, sometimes a great smartphone will be the necessary tool to meet function and portability. Teaching math has enough challenges without a lack of technology.
Technology makes teaching math easier, so access all the top math apps for teachers with the right smartphone for you.
Connectivity and Continuity
One of the first things to consider when choosing a smartphone for teaching math is the system you are currently using.
If you are an Android user then you will find an Android phone to be the most flexible and easy to connect with the systems you already have in place.
Apple users will find the transition and cloud sharing seamless by remaining with an Apple smartphone as well.
Staying within the same family for your smartphone as the rest of your technology allows it to sync quickly and easily. In this way, they work together easily without slowing you down.
It is also valuable to consider which platforms your school uses and what the students are familiar with. Knowing this will help with the easier transition and the ability to smoothly move to apps and online math teaching.
If your school uses Apple products this will be easier for both you and the students, while Google-based schools may find an Android or Google phone an easier connection.
Apps
There are several great apps for math and they will not all be available on both operating systems, so if you have a favorite app be sure that it can run on your new smartphone. This lets you keep all the apps and productivity that you are used to without losing your favorites or needing to relearn all new ones.
Apps like GoogleMeets, CourseSmart, Dropbox, Edmondo, and more can help to show basic math steps, teach more advanced topics, and allow you to share your screen with the students.
Price
The prices of smartphones are always significant for brand-new models, but with payment plans from carriers and the ability to purchase refurbished ones, you can find a suitable phone within your price range. You can keep your personal cell phone separate from your teaching cell phone to increase storage.
Also, you can provide a set device for each purpose. You can get a refurbished phone, either Android or Apple, for less and not be tied into a new contract.
Whether using your current phone, upgrading to a newer faster phone, or purchasing a used or refurbished phone, consider a good case to be part of the cost. Every phone will need protection and the better the phone case the more it will cost, but it can save hundreds by avoiding replacing a broken phone.
Storage
If you are using your smartphone to teach math you will have an increased number of apps on your phone, and you may be storing files and information on your phone. There are few phones with expandable storage so ensure that yours will be able to hold all of your apps and leave room for growth as you find new ones you love. Using cloud storage for other files can help to conserve storage space directly on your smartphone, which helps avoid slowing it down.
Battery
Consider the battery life of any smartphone before making your final decision. Find one that will last your whole class, and expect that running it constantly for that time will drain it faster than the expected battery life.
The table below provides an overview of the 5 best smartphones on the market for math teachers.
| | | | | | |
| --- | --- | --- | --- | --- | --- |
| RANKING | #1 | #2 | #3 | #4 | #5 |
| | | | | | |
| | Microsoft Surface Duo 256GB | SAMSUNG Galaxy S21 | Apple iPhone 14 | Samsung Galaxy Note 10 | Google Pixel 5 |
| Price | CHECK PRICE | CHECK PRICE | CHECK PRICE | CHECK PRICE | CHECK PRICE |
Related to This Article