Top 10 STAAR Grade 8 Math Books: A Comprehenisve Review
Searching for the best STAAR Grade 8 Math books to guide your child toward test success can be a daunting task. Fear not, for you've arrived at the ideal spot. The State of Texas Assessments of Academic Readiness (STAAR) is a standardized evaluation that Texas public school students, ranging from grade 3 to high school, must undertake. This critical assessment measures student understanding and mastery of the state's curriculum standards. At this juncture, we will plunge into our carefully selected top ten STAAR Grade 8 Math books. These resources are tailored to establish fundamental skills and knowledge, setting the stage for your child to conquer the STAAR exam confidently.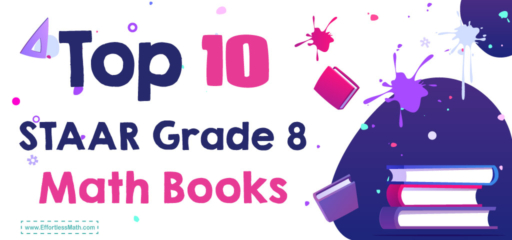 Why the Right STAAR Grade 8 Math Book Matters
Understanding the STAAR Test
Performing exceptionally in the STAAR test necessitates more than merely possessing mathematical prowess. Students must grasp the test's structure thoroughly, discern the types of questions posed, and develop efficient techniques to address them adeptly. This necessity underlines the value of an expertly curated STAAR Grade 8 Math book. It not only builds academic knowledge but also offers the strategic insight required to navigate the exam. The aim is to equip students with the tools to decode the STAAR test, transforming it from an intimidating challenge into a manageable task.
Picking the Right Study Material
Choosing the ideal study material can seem like navigating a maze, given the wide range of available options. Remember, education is not a one-size-fits-all domain. Each student has a unique learning style, differing strengths, and specific areas that need improvement. What proves effective for one learner may not necessarily yield the same results for another. With this in mind, we've gone the extra mile to cherry-pick ten of the finest STAAR Grade 8 Math books. Each of these selections offers a distinctive approach to teaching, facilitating a comprehensive understanding of math concepts. Regardless of your child's learning preferences, there's an excellent resource in our list tailored to their needs, promising a seamless learning journey.
The Absolute Best Book to Ace Grade 8 Math
Breakdown of Top 10 STAAR Grade 8 Math Books
The Absolute Best Books to Ace Grade 8 Math
Final Thoughts on the Top 10 STAAR Grade 8 Math Books
The right STAAR Grade 8 Math book can make all the difference when preparing for this crucial test. The above-listed books, with their varied approaches and strategies, can cater to diverse learning styles. Choose the one that resonates with your child and watch their confidence and proficiency soar!
FAQs
What is the STAAR test? The STAAR (State of Texas Assessments of Academic Readiness) test is a series of state-mandated standardized tests used in Texas public primary and secondary schools to assess a student's achievements and knowledge learned in the grade level.
Why is choosing the right STAAR Grade 8 Math book important? The right book will not only cover the necessary content but also provide strategies and practice that mirror the actual STAAR test. It can help improve the student's understanding, build confidence, and ultimately, improve test performance.
What should I look for in a good STAAR Grade 8 Math book? Look for books that offer comprehensive coverage of the curriculum, provide ample practice questions, offer detailed answer explanations, and include test-taking strategies.
Are practice tests important in STAAR Grade 8 Math books? Yes, practice tests are vital as they familiarize students with the test format, question types, and timing. They also allow students to assess their strengths and weaknesses.
Are all STAAR Grade 8 Math books similar? No, different books may adopt different approaches to teaching and practice. Some may focus on content, others on strategies, or a mix of both. Choose a book that aligns with the student's learning style.
The Absolute Best Book to Ace Grade 3 Math
Related to This Article