How to Prepare for the CHSPE Math Test?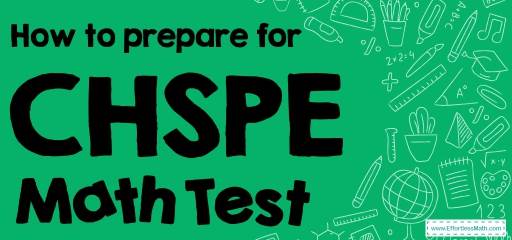 The California High School Proficiency Examination (known as CHSPE) is a test for students in California to verify their high school-level skills.
Students take the CHSPE to leave high school early or to attend college.
Test takers who pass the CHSPE receive a diploma equivalent entitled Certificate of Proficiency, from the California State Board of Education.
There are two sections on CHSPE:
English Language Arts
Mathematics
The Mathematics section of CHSPE contains 50 multiple-choice questions that assess content in the following areas:
Number Sense and Operations
Patterns, Relationships, And Algebra
Data, Statistics, And Probability
Geometry and Measurement
A basic calculator is allowed in the mathematics section of CHSPE.
Test takers have a total of 3.5 hours to take the CHSPE.
No part of the exam is timed, and you may spend as much time as you like on any portion until the testing session ends.
How to Study for the CHSPE Math Test?
The exam itself is always stressful for students, but most students consider the math section to be the most stressful part of any exam.
The CHSPE Math Test can also be a challenge for many students. So, if you are going to take this test and you are worried, we are here to guide you step by step to prepare for the CHSPE Math Test.
The Absolute Best Book to Ace the CHSPE Math Test
1. Choose your study program
Many prestigious CHSPE Mathematics books and study guides can help you prepare for the test.
Most major test preparation companies have some offerings for CHSPE Math, and the short-listing of the best book ends up being a puzzling phenomenon.
There are also many online CHSPE Math courses.
If you just started preparing for the CHSPE test and you need a perfect CHSPE Math prep book, then CHSPE Math for Beginners: The Ultimate Step by Step Guide to Preparing for the CHSPE Math Test is a perfect and comprehensive prep book for you to master all CHSPE Math topics being tested right from scratch.
It will help you brush up on your math skills, boost your confidence, and do your best to succeed on the CHSPE Math Test.
This one is an alternative book:
No Product Here.
If you just need a CHSPE Math workbook to review the math topics on the test and measure your exam readiness, then try: "CHSPE Math Practice WorkbookThe Most Comprehensive Review for the Math Section of the CHSPE Test"
This prep book is also a perfect resource to review all Mathematics concepts being tested on the CHSPE:

You can also use our FREE CHSPE Math worksheets: CHSPE Math Worksheets
Have a look at our FREE CHSPE Math Worksheets to assess your knowledge of Mathematics, find your weak areas, and learn from your mistakes.
There is also a FREE
CHSPE Math FREE Resources:
2. Change your attitude toward math
If success in the CHSPE Math Test is important to you, you should have a positive attitude towards mathematics, or at least spend enough time learning it.
It does not matter if you do not already have enough motivation to study, now you have to create this motivation in any way to succeed in the test.
To have a positive outlook, you can consider solving math problems like a game, reward yourself whenever you succeed, and celebrate your small successes.
3. Make the concepts clear
Many test-takers start studying immediately without checking and categorizing test concepts. This is a mistake because if you do not have a strong math foundation the result is nothing but confusion and a waste of time for the test takers.
The math study should be done step by step. First, the basic concepts should be reviewed and then the advanced concepts should be included in the study program.
Remember that one of the secrets to your success in the test is to know when and where to start from the concepts.
4. Practice daily
You do not have to spend a lot of time studying math in one day, but it is necessary to spend a balanced hour a day studying math. So, it is best to have a realistic daily study schedule and include what you need to read during the day.
By spending a certain amount of time studying mathematics, the contents of the CHSPE Math test will remain in your mind.
5. Find the best way to learn
If you are just starting and do not know where to start studying math for the CHSPE Math Test, there are many books for beginners that can help you.
There are many ways to prepare for The CHSPE Math Test, including taking prep courses and using prep books.
If you are looking for books to help you learn the math part of The CHSPE Test, here is a complete list of useful books for you.
Also, some test takers use a private tutor to speed up their learning, but because this method is not economical, you can replace books that guide you like a good tutor.
Prepare for Excellence With This PERFECT CHSPE Math Practice Book
6. Use the CHSPE Math Test Formulas wisely
In the CHSPE Math Test, a reference sheet containing the necessary formulas is provided.
However, it is better to memorize the necessary formulas for the test.
If you memorize the formulas, only if necessary, you can find the formula you want by looking at the reference sheet. This way will increase your speed in answering the questions during the test.
So, make a complete list of formulas needed for the test right now and keep them with you, and gradually memorize them.
7. Take Practice Tests
Familiarity with the CHSPE Math test question format can help you a lot.
To better understand the main test questions, you should take practice tests when you have studied the test materials well. These practice tests can be online or on paper and pencil.
You can even use books that include practice tests.
The conditions of these tests should be something like the main test.
You should manage time during these practice tests as well.
Create an environment close to the real environment of the CHSPE Math test. Following these tips will help you identify your weaknesses and address them.
Remember that the more simulated tests you take during the week leading up to the test, the more likely you are to succeed in the test.
8. Register for the CHSPE Math test
You must register to take the CHSPE test before taking it. Registration is done in one of two following ways: Electronic Registration or Standard Registration.
In Standard Registration, you have to create a registration form. Then print this form and mail it to CHSPE Office with eligibility documents and proper payment.
In Electronic Registration you have to create the registration form online. Then the necessary eligibility documents must be uploaded.
The registration fee must be paid with a credit card and online.
Please note that this registration method is only available to applicants and registrants who are 16 years of age or older.
You can visit the CHSPE website for more information.
9. Take the CHSPE Math test
To have less stress on the day of the CHSPE Math test, you should follow simple but important tips. First, it is better to arrive at the test center 30 minutes early. You should be at the test site before 8 A.M.
Know what to take with you and what you do not need to take with you. It is necessary to bring a photo ID and an admission ticket. 2 pencils, an eraser, and a basic four-function calculator are also required.
Do not take unnecessary personal items with you or keep them in a safe place.
Do not stress if you encounter a confusing question during the test. Calm down and if you do not know the answer, mark it and skip it. At the end of the test, you can think again about the question.
On the CHSPE test, you have 3½ total time for all the test questions, and it is up to you to decide how much time to devote to which section. So, manage your time so that you can answer all the questions.
Remember there is no penalty for guessing, so do not leave the question unanswered.
The Best CHSPE Math Quick Study Guide
CHSPE FAQs:
Here are some common questions about the CHSPE math test:
What math is on the CHSPE?
Number Sense and Operations, Patterns, Relationships, Algebra, Data, Statistics, Probability, Geometry, and Measurement.
What is a passing score on the CHSPE?
The minimum passing score is 350.
Is the CHSPE the same as a high school diploma?
Yes, the CHSPE Certificate of Proficiency is equivalent to a high school diploma.
Can you use a calculator on the CHSPE?
A basic calculator is allowed in the mathematics section of CHSPE.
Is the CHSPE only valid in California?
Yes, this test is only offered to California residents.
Is the CHSPE equivalent to a GED?
Yes, the goal of both exams is to obtain a degree equivalent to a high school diploma.
Can I take the CHSPE if I'm 18?
CHSPE is available to all students 16 years of age or older in California.
Looking for the best resources to help you or your student succeed on the CHSPE Math test?
The Best Books to Ace the CHSPE Math Test
Related to This Article