Top 10 Tips to Create a CHSPE Math Study Plan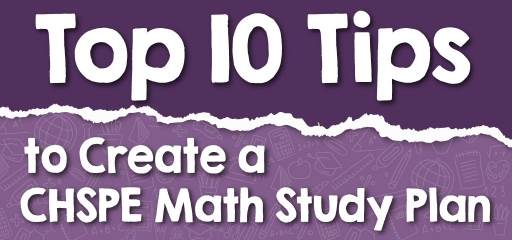 The California High School Proficiency Examination or CHSPE is a test for students in California that validates their high school-level skills. Students take the CHSPE to leave high school early or to attend university. There are two parts to CHSPE:
English Language Arts
Mathematics
The CHSPE math includes 50 questions presented in multiple-choice format. Its focus is on geometry, algebra, and statistics. You will need to be able to show that you can identify numeric patterns and relationships between numbers in addition to performing mathematical operations. You will also have to work with probability, measurements, and statistics.
To succeed in CHSPE math, you must have a CHSPE study program. This plan tells you when, what, and how you can prepare for CHSPE math. It also helps you manage your time and make the most of your time for the CHSPE math. Here are some tips to help you get started with a CHSPE math study program. So join us!
The Absolute Best Book to Ace the CHSPE Math Test
1- List all the math subjects you need to study
The first point in creating a math study plan is to make a list of all the topics needed to study. Putting commitments on paper will help you get a better idea of what you have to do.
2- Find CHSPE study materials
Before you start preparing for CHSPE mathematics, it is important to gather all your study resources. That way, you don't have to spend time studying to find resources for CHSPE math.
3- Design a table to manage time
You can use a better time by designing a table. After doing this, assign each column of the table to a CHSPE math topic. Fill in the columns according to the CHSPE math topics you want to read. It will help you get things done faster than you expect.
4- Use sample questions
You can access a section of the CHSPE website designed to help you prepare for the test after requesting your password. This password gets you to a page containing CHSPE test details, and sample questions, which can be used to familiarize yourself with the words used in the questions and the types of topics that will be asked about when taking the CHSPE.
5- Create a study environment
Mathematics is a subject that needs more focus than other subjects. A good, distraction-free study environment can be a determining factor when solving CHSPE math equations! Therefore, studying mathematics in a well-lit private space is very important.
Best CHSPE Math Prep Resource for 2022
6- Work with study partners
Everyone knows their strengths and weaknesses when studying. Some people avoid studying or cut their study time if they do not have the right motivation and accountability. If this describes you, it is good to find other people studying for CHSPE math and join them for regularly scheduled study time. Studying with others can help you focus on reviewing areas you may not like working on too much. It can also motivate you to study more independently to prepare for your group study sessions.
7- Ask for help
One good but costly way to prepare for CHSPE is to hire a tutor. A CHSPE expert tutor will help you discover your strengths, pinpoint your weaknesses, and inspire you to score high on the CHSPE math.
8- Save time for non-academic activities
While blocking off time for each subject, make sure you make time for family, friends, and rest as well. It is because you cannot succeed in your education unless you create a healthy balance between your personal life and your academic life.
9- Stick to the schedule
The one hard-and-fast rule about making sure your CHSPE math study plan works is that you have got to adhere to your schedule. There is no point in making a study plan if you don't stick to it.
10- Commit yourself to the study program
Although you may have an attractive plan to pass the CHSPE math test, note that the design of this program does not guarantee its implementation. To get the right result from CHSPE math planning, you need to take the time and force yourself to run the program. After a while, the CHSPE program becomes part of your regular program.
Finally, keep in mind that while a study plan can help you pass the CHSPE math test does not work alone, and the final success of the CHSPE test depends on your willpower.
Looking for the best resource to help you succeed on the CHSPE Math test?
The Best Books to Ace the CHSPE Math Test
Related to This Article