Math Education Trends In Canadian Education System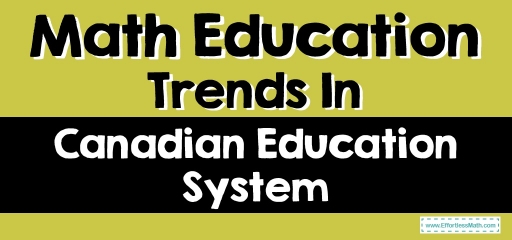 It's a well-known fact that Canadian education is internationally recognized since this country has some of the top academics.
Institutions based in Canada consistently rank as one of the best in the world. Not only do Canadians decide to get a degree in their home country, but also many foreigners come there to study different fields, including Math. And no wonder why!
Canada welcomes international students with open arms, creating a warm and friendly atmosphere for them. This is a place where diversity is embraced. What's more, its schools can set you on the path to a promising future.
If you are going to study Math in Canada, you can be sure about having a strong earning potential. Did you know that in the last decade alone, Canada created about 1.6 million new jobs for graduates? Isn't it impressive?
Homework help for students
Since the Canadian education system is quite demanding, you may go through challenging times. To relieve the burden on your shoulders, you can turn for help. Today, there are a lot of companies that assist students with completing their homework for a certain fee.
You can get assignment help in Canada for any discipline, including Math. All you need to do is just place an order at a special website, provide detailed instructions on your task, and wait until it's done by experts.
How Ontario changed math education trends?
The Math curriculum has been recently transformed in Ontario. Doug Ford is calling it a shift back to basics. But Vanessa Vakharia, the founder and CEO of The Math Guru, does not agree with him. She says that it's not a back-to-basics program. In her opinion, a back-to-basics program consists of timed flashcards, worksheets, and memorizing procedures. So who is right?
Canadian educators say the core innovation in the new curriculum is teaching social-emotional learning skills throughout mathematics. According to the documents developed by the Ministry of Education, this means helping students to increase confidence, learn how to cope with challenges and think critically.
One of the statements provided in the parents' guide to the curriculum says that students will learn strategies for working through challenging problems they face in class. The main point is to help young learners overcome widespread math anxiety, which is a significant barrier to success. Because of that, many students throw up their hands and believe that they are simply not good at math. So teaching social-emotional learning skills is far from just drilling times tables into students' heads.
Math teachers believe that the social-emotional learning component will help kids tremendously. Many experts, including Reid who conducted research on math anxiety, praise the curriculum for addressing important issues. They hope that it will guide teachers toward making their discipline more engaging, fun, and interesting.
The best strategies to learn math
Mathematics is a very challenging discipline. To achieve success in it, students can stick to the following strategies.
Do textbook examples
Usually, each example in the textbook is accompanied by a step-by-step guide. So this is a great source of feedback for you. Before you start doing your homework, re-read the sections that were covered in class and work out each example.
Use the student solutions guide
Of course, you may run into trouble doing your home assignments from time to time. If you feel that a certain task is too difficult for you, use the solutions guide. It's available for most textbooks, so you can easily get the assistance needed for better understanding. But don't just copy ready-made solutions from the guide. Try to get the idea behind them.
Do text corrections
You must know that some concepts usually re-appear on a test and final exam. So after your teacher returns a quiz or test to you, don't just file it away. Find some time to properly review it. Try to work on the problems that you did incorrectly.
Read before class
A big part of learning math is understanding its vocabulary and symbols. That's why you can read the chapters of the textbook that will be discussed in class the day before it. If you highlight new vocabulary terms and symbols, it will be much easier for you to get a deeper understanding of the materials.
Final thoughts
In Canada, you will study math with the best and brightest. This country is recognized worldwide for its outstanding quality of education. Hopefully, the teaching trends described in this article inspired you to study in Canada.
Author's BIO
James Collins is a Math tutor at one of the most prestigious colleges in Canada. James is passionate about mathematics, so he does his best to pass that passion to the younger generation. James believes that the Canadian education system is one of the best in the world, so he works hard to maintain the highest teaching standards.
Related to This Article