What Does ALEKS Stand for?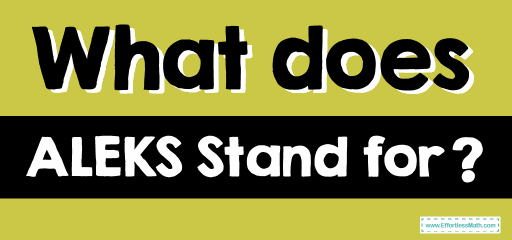 ALEKS stands for Assessment and Learning in Knowledge Spaces, which is intelligent artificial learning and assessment system used by more than 25 million students in Mathematics, Chemistry, Statistics, and Accounting.
The Absolute Best Book to Ace the ALEKS Math Test
ALEKS was developed at the University of California by cognitive scientists, mathematicians, software engineers, and educators and is available for K-12, Higher Education, and Continuing Education. It is designed to first determine what you know and do not know and then provide explanations and practice problems for concepts you do not know. The findings of the ALEKS assessment test helps to find the right level for course placement.
ALEKS does not use multiple-choice questions. Instead, it uses an adaptable, easy-to-use method that mimics pencil and paper techniques. While taking the ALEKS test, a brief tutorial will help you learn how to use the ALEKS response input tools. Then you start evaluating ALEKS. In about 30 to 45 minutes, the ALEKS measures your current content knowledge by asking 20 to 30 questions.
ALEKS includes three parts:
An Initial Placement Assessment
The Learning and Prep Module, self-paced online review
Access to 4 additional Placement Assessments
ALEKS is a Computer Adaptive Test. It means that each question will be selected based on the answers to all previous questions. It means that once you answer a question, you cannot go back and change your answer. So, each set of assessment questions is unique.
Looking for the best resource to help you succeed on the ALEKS Math test?
Perfect ALEKS Math Prep Resource
More from Effortless Math for ALEKS Test …
If you are looking for a free and complete ALEKS Math course to help you improve your knowledge of mathematics, check out our Ultimate ALEKS Math Course.
Review the most common ALEKS Math formulas here: ALEKS Math Formulas
Keep this list around for a quick reminder when you forget one of the formulas.
Here's a collection of FREE PDF mathematics worksheets for all ALEKS Math topics: ALEKS Math Worksheets
The Best Books to Ace the ALEKS Math Test
Have any questions about the ALEKS Test?
Write your questions about the ALEKS or any other topics below and we'll reply!
Related to This Article