ALEKS Math Placement Review and FAQs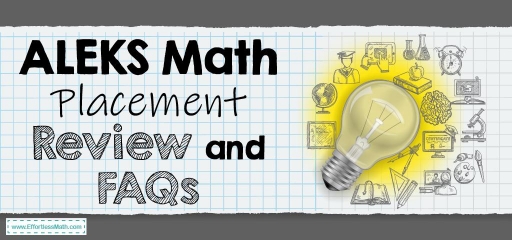 ALEKS is an online, adaptive assessment and learning tool which all first-year university students have to take to show their ability and skills in mathematics and for Math placements.
The Perfect Book to Ace the ALEKS Math Test
What is ALEKS?
ALEKS stands for Assessment and Learning in Knowledge Spaces. It is a software program that helps you improve your math skills, as well as identify what math courses to take next.
How does it work?
ALEKS uses adaptive questioning to help learn at the user's pace and ask questions on topics they need help with.
The questions are based on concepts from algebra through Calculus III, so they can be used by high school students up to the college level!
What can ALEKS be taken on?
ALEKS can be taken on a PC/laptop, tablet, or phone. It is recommended to use the most recent version of your web browser for optimum performance with ALEKS.
What are some benefits of using ALEKS?
– Personalized learning that helps you learn at your own pace, focusing on areas where you need extra help.
– Interactive lessons and questions so you can learn by doing.
– Shows you which topics you have mastered, as well as what topics to focus on next.
Can I access ALEKS more than once?
Yes, students and parents may reset their passwords without losing any of the progress they made previously!
Students will need a new username though if it is within one year from their previous attempt at using ALEKS. If it is after one year then no changes are needed because your record remains intact for future attempts to access the program.
Some schools require students who choose not to take math in high school or an AP course instead to still do a placement test through ALEKS again before they start college classes even if this was done before.
What is the math placement assessment through ALEKS?
ALEKS is a math placement assessment that helps you test out of lower-level courses in college and get into the ones where you will have more success.
The program assesses your knowledge in several different areas such as algebra, trigonometry, calculus I & II, etc., to see what level of classes would be best for you to take next!
Can I use a calculator in an ALEKS test?
The test comes with a built-in calculate so you can use that for the calculations you cannot use any external calculator for the ALEKS test.
Who is required to take ALEKS?
All students who are currently in their first year of the university have to take the ALEKS math assessment test.
All students who have newly transferred to the respective university also have to take the ALEKS test given that they plan on taking Math as a course.
Do I need to take the assessment if I have AP credit or transfer credit in calculus?
Yes, you are still required to take the ALEKS assessment even if you have already taken an AP course or college-level calculus. This is because not all universities accept these courses as appropriate substitutes for their math requirements!
Will I be charged a fee to complete ALEKS?
The first year for UNI students is free however they will have to pay $15 for additional access of 12 months for the assessment test.
Best ALEKS Math Prep Resource
Why is it important to complete ALEKS?
ALEKS is a very important tool that you will need to be able to register for the correct courses at university.
It is used as an evaluation of your current math skills and knowledge, so it helps guide students into choosing which classes they should take next depending on their skill level!
What can I do if my score on ALEKS is lower than I expected?
If your score is lower than what you expected then you can complete the review modules available on the ALEKS website. The modules are designed to improve your current understanding of select topics.
If I do the review modules, will it change my math placement?
The courses you take at university depend on how well you did with ALEKS so if you did poorly then this may mean that you would have to retake lower-level classes or take extra time before taking higher-level ones!
You can always check out what kind, of course, options are available for students who are placed into specific levels by checking the student advising website for your uni/college.
Do I need to retake ALEKS if I'm only one or two percentage points below the cut score for my desired class?
Yes, it is highly recommended that you retake ALEKS and the review modules to ensure you get a higher score!
How long are my ALEKS scores valid?
Your ALEKS scores are valid for 2 academic semesters
Do I need to install any software or plug-ins prior to taking the ALEKS math assessment?
No, you do not need to install any software or plug-ins before taking the ALEKS test.
What do I do if my web browser gets stuck or my computer crashes while I'm taking the test?
If this happens then you can simply restart it and quickly log back into your ALEKS account.
You will not lose any of the progress and your test will resume from the same place where you left it when the browser got stuck or you mistakenly closed it.
So don't panic if you accidentally shut down the browser your hard work and your test progress will be saved.
Contact Information for ALEKS?
ALEKS technical support's contact number is 800-258-2374.
You can contact ALEKS through their website.
These are some of the common questions that people looking to take the ALEKS test ask online.
The Best Books to Ace the ALEKS Math Test
Related to This Article