Top 10 Tips You MUST Know to Retake the SAT Math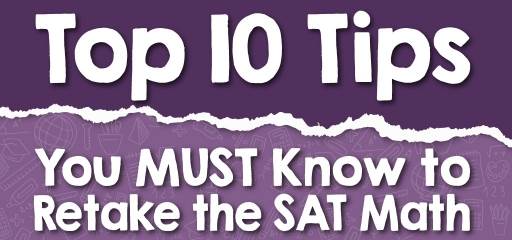 The SAT is one of those tests that may determine whether or not you are entering college. You want to earn as many points as you can so that your options are not limited. Fortunately, you can take the test as many times as you want. However, this does not mean that you should not study, especially if you are taking it for the second or third time. If you are thinking of getting your SAT to retake, here are some tips.
The Absolute Best Book to Ace the SAT Math Test
1- Review your test results report
The first step to success in math SAT is to identify weaknesses and focus on addressing them. So by reviewing your score report, you determine where to focus. Note which part of the test you scored the lowest on. You should also look for the cause of the lack of points to find the root of the problem.
2- Set yourself a test score goal
One way to help focus your study and motivate yourself is to set a goal of the desired score to achieve the goal. If you have already taken this test, you can evaluate your section scores, especially sub-scores, and use them to create a realistic improvement goal. If you have specific schools in mind that you would like to attend, look at their SAT score requirements as motivating goals.
3- Make a (new) plan
If your previous study plan did not work, it is best to try a new plan. Like, you can use good math preparation books that you have not read before.
Make sure your schedule includes choosing a test date that gives you enough opportunity to prepare and one that works with your overall schedule.
4- Study with regular hours
Being regular helps you improve your grades consistently, and consistency is the important thing. Block and stick to your regular reading time in your calendar.
5- Use your strengths
Every question is the same. So if you are good at certain types of math questions, be sure to practice these as well so that you can get the most points on them.
Best SAT Math Prep Resource for 2022
6- Focus on the weaknesses
Adjust your study plan to focus more on math topics that you have not worked on very well. Study hard to increase your score. There are many useful tips and tricks for each section online, so be sure to research and improve your skills.
7- Use practice tests as warm-ups and progress reports
Using the SAT is a significant commitment that requires a lot of work and study. You need to simulate test conditions to be prepared for the time constraints you face. Realistic practice tests teach you both in the format of tests and develop your physical and mental ability for each section. Do several practice tests during your preparation cycle to determine how much or little you study will affect your potential test score.
8- Find a study group
Sometimes doing this yourself is very difficult, and study groups can help you improve and motivate. If you are improving points or problem areas and have hit a wall, do not be afraid to seek help from your peers. Chances are, you are not the only one in your class who chooses the SAT, so take advantage of this and join a study group with other classmates.
9- Prepare both mentally and physically
Many students fall victim to anxiety tests at SAT, so you need to be very physically and mentally fit. If you are tired or hungry, your most important preparation is not to read questions. Learning how to stay healthy and manage stress is one of the best things you can do when determining how to study to retake SAT math.
10- Believe in yourself
The key to success in SAT mathematics is belief in your ability. If you have done your best, so know that you are good enough. Avoiding negative thinking and self-confidence helps you focus on passing the SAT math test.
Given the above, it can be concluded that you should not let a bad test lower your self-confidence. No exam is so difficult that you cannot succeed with planning and enough effort. Always keep in mind that if others have passed the SAT math test, you can too.
College Entrance Tests
Looking for the best resource to help you succeed on the SAT Math test?
The Best Books to Ace the SAT Math Test
Related to This Article