Top 10 Tips to Overcome SHSAT Math Anxiety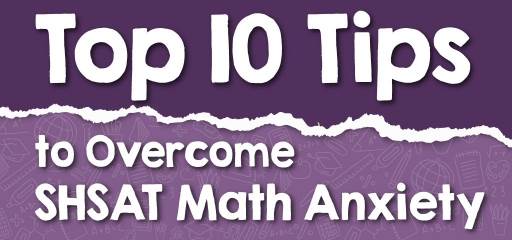 Math is not just something you have to learn, it's something you have to do – and the terrible fear you can't do is math anxiety. So how do you overcome this math anxiety? Unfortunately, there are no hidden formulas, hidden answers, or magic equations. But there are some simple strategies you can try today. So join us!
The Absolute Best Book to Ace the SHSAT Math Test
1- Learn the SHSAT test type
If you do not know what to expect in the SHSAT math test, relaxation is difficult. See what kind of math questions there are on the SHSAT test. Knowing the types of problems that are expected will help you not to get nervous because you will be more prepared.
2- Make a math plan and stick to it
Creating a schedule when you have time to study, rest and relax will help you reduce math stress. It will help you to be at your best. Develop a study plan and goals that are easier to follow. Having a balanced daily routine will make you feel more refreshed and relaxed the next time you want to study.
3- Create a good study space
Creating a healthy and comfortable study space is important. Make sure your SHSAT study area has a light, proper ventilation, and comfortable seating arrangement, and is close to the essentials for a successful study.
Also, make sure that your study space is not crowded and cluttered as a cluttered desk reduces concentration and prevents you from thinking right.
4- Do mock exams at home
One of the most common reasons for feeling stressed before SHSAT math is not being sure what to expect on the day, such as questions you may be asked and how best to answer them. The best way to overcome this? Practice – and lots of it.
If you can, try to find SHSAT math sample questions for your course to get an idea of the topics covered in previous years.
5- Have a positive attitude
Math can be scary, but you can overcome your SHSAT anxiety and frustration with a positive mindset. Changing your mindset about SHSAT math can affect how you feel about it.
Prepare for Excellence With This PERFECT SHSAT Math Practice Book
6- Cooperate with groups
Working with friends is a great way to overcome SHSAT math anxiety. Each member of the group can learn math from the other. Studies have shown that working in groups helps people overcome problems they may have alone.
7- Familiarity with stress management
Control stress and relaxation are some of the best ways to overcome SHSAT math anxiety. With this method, you can overcome SHSAT math anxiety and be able to focus on the things that make you happy. In this way, you can meditate and take deep breaths that help calm your mind.
8- Practice regularly
The best way to feel comfortable with math is to do it regularly. When practicing, work on the simplest problems first. It gives you a taste of success, and you lay the foundation for more difficult problems.
9- Get enough sleep
The importance of sleep cannot be underestimated. Research shows that insufficient sleep leads to increased math stress levels. It is important to get enough sleep when preparing for SHSAT math because it helps your brain maintain new knowledge.
10- Fight negative thoughts
Negative thoughts are your biggest enemy, and you have to fight your negative thoughts to overcome SHSAT math anxiety. The subject that creates negative thoughts is a lack of self-confidence. To overcome negative thoughts, you need to increase your self-confidence by saying positive things about yourself, like "I can do this."
Finally, it is good to know that having a little stress is normal for SHSAT math. To overcome this level of anxiety, you can use the topics listed and pass your SHSAT math test. If you feel that your SHSAT math anxiety level has reached a level that cannot be controlled with the usual methods, you must consult a counselor in this field so that you can calmly take the SHSAT test.
Looking for the best resources to help you or your student succeed on the SHSAT test?
The Best Resource to Ace the SHSAT Math Test
Related to This Article