How To Get A Perfect Score Of 800 On SAT Math?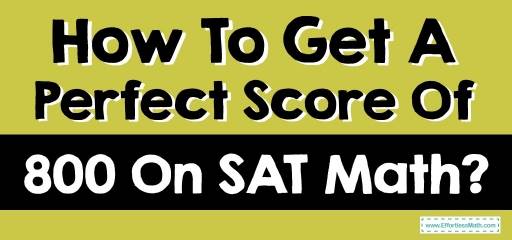 SAT Math is one of the challenges that students face during their lives. It isn't easy to get a perfect score. However, that does not mean it is impossible.
To get a perfect score, you must possess two qualities. Firstly, you should have a talent for the subject. Secondly, you must be willing to work hard.
If you're wondering how to get a perfect score on SAT Math, you've to come to the right place. Here are the top tips that you should swear by:
The Absolute Best Book to Ace the SAT Math Test
1- Keep A Positive Mindset
Psychology plays a significant role in passing complex tests such as SAT. If you don't have a positive mindset towards studying, you can never get a perfect score. If you believe in yourself and answer confidently, you stand a chance.
The right mindset for SAT Math includes patience and positivity. Additionally, you should not let the fear of failure affect you. Otherwise, you will end up making mistakes.
2- Use The Answers To Your Advantage
The great thing about SAT is that it includes multiple-choice formatting. That is why you can work backward using the answer options. Of course, this is helpful when you get stuck during the paper.
By using the answers to your advantage, you can figure out the best choice. Additionally, it can help you save time as well. So always test the solutions to see which one suitably allows the problem.
3- Break The Material Down
Math is a tricky subject overall as well. The key to solving questions is by breaking them down. You should read the problem and make your data.
Once you write down the data in your own words, you can quickly figure out the problem. Not to mention breaking down things makes understanding the concepts easy.
Best SAT Math Prep Resource
4- Get Prep Books
Covering the syllabus topics is not enough for SAT Math. You must practice a lot as well. That is because doing exercises and questions will allow you to learn about your weak areas.
Once you know where you lack, you can focus on that topic. That is why you must get various SAT Math prep books. They contain specific content and questions for the test.
5- Practice Complete Tests
Once you complete all the practice questions, it is necessary to do full-length tests as well. In many prep books, at least two tests are provided. Not to mention you can find papers online as well.
When you practice the tests, you should also put a timer. This will allow you to work on your speed. Not to mention it will replicate the conditions of the actual SAT.
6- Give The SAT More Than Once
It is a fact that most people don't get a perfect score on the first try. That is why you shouldn't get discouraged. Instead, give the test more than once to accomplish a score of 800.
You can see the details about SAT online. The best part is there are no limitations on the number of times you can give the test.
Final Words
These are the six tips that you can abide by to get a perfect score of 800. Once you follow them, you will feel more confident about SAT Math. This will allow you to give the test calmly and achieve a high score.
The Best Books to Ace the SAT Math Test
Related to This Article