What time do SAT Scores Come out?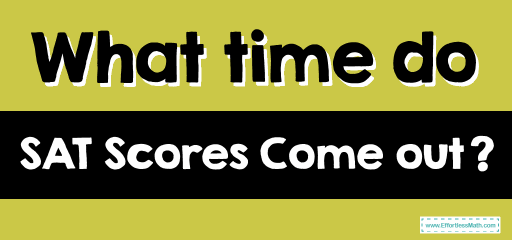 Have you taken the SAT exams for admission to a US university and wondering what time do SAT scores come out? We will answer your question in this article.
The Absolute Best Book to Ace the SAT Math Test
SAT scores for each test date during the school year are almost always available 2-4 weeks after taking the test. For SAT administrations in the summer, scores may take a little longer.
If you take the SAT on Saturday, your multiple-choice scores will be ready in about two weeks.
If you take the SAT on a weekday in school, it may be close to three weeks.
If you take the SAT with Essay, your essay score will be ready a few days after your scores for the multiple-choice section of the SAT are submitted.
On the day the score is published, approximately half of the students can view their score online by 8 a.m. ET; the other half usually sees them at 8 p.m. ET. They will email you when the scores are ready so, you will not need to check during the day.
The College Board sends your SAT scores to your chosen university within 10 days of you received all your SAT scores. If you took the SAT with Essay, it takes a day or two longer for colleges to get your scores. Students who are concerned about getting their grades to school in time can choose rush reporting. With this option, the processing of grades takes only two to four business days and is delivered to schools three times a week.
College Entrance Tests
The Best Books to Ace the SAT Math Test
Related to This Article