The best way to attack ACT is to use an ACT study program. With a study program, you can easily manage your preparation time, identify your weaknesses and strengthen the skills needed to get the score you want on the test day.
Follow this post to learn step by step how to create an ACT Math study program.
The Absolute Best Book to Ace the ACT Math Test
1- Make a list of all the topics that need to be studied
4- Analyze your current study habits and learning style
Think about what is good for you and what is not good for you. Can you study once or twice a week for long periods, or is it more effective if you study for 30 minutes a night? Are you more focused at certain times of the day? If you read a topic immediately after class, do you memorize it better or do you need to rest first? Answering these questions will help you make the most of your study time.
5- Evaluate your current schedule and time management
Use a digital or paper calendar to block out all your commitments, including classes, tasks, and extracurricular activities. By doing this you can see how much time you have already talked about and what time you have available to study. If your schedule leaves little room for study, you may need to evaluate what you can reduce or how you can rearrange your schedule to have more open time for studying.
Best ACT Math Prep Resource for 2021
6- Design a table to manage time
You can make better use of time by designing a table. After doing this, you can assign each table column to a math topic. Fill in the columns according to what you need to read. Write down what you need to study in each session. This helps you stay on track and also allows you to get things done faster than you anticipate.
7- Commit yourself to the study program
Although you may have an attractive plan to pass the ACT math test, note that the design of the program does not guarantee its implementation. To get the right result from your planning, you must take some time and try to force yourself to execute the designed program. After a while, this app will become part of your regular schedule.
8- Keep updating your plan
Before each study period, your study plan should be updated to outline the specific goals, learning outcomes, goals, and study materials of that study session.
Also, create a study plan that improves because of your study, and what you need to determine to improve learning outcome.
9- Maximize the effectiveness
While you do not want to miss out on scheduled study sessions, you also do not want to get bored of studying. Be reasonable and allow yourself to have enough study breaks between sessions and during your sessions.
If you need more help with your study sessions, consider hiring a tutor or studying with a friend. Having a study partner can create discussions that facilitate the learning process
10- Let others know about your plans
Sometimes it becomes difficult to run programs. Because others like to spend time with you. So to prevent this from happening, explain your planning to family and friends. Ask them to align themselves with your planning.
Finally, keep in mind that although a degree program can help you pass the ACT Math test, it does not work alone, and the final success of the test depends on your willpower.
College Entrance Tests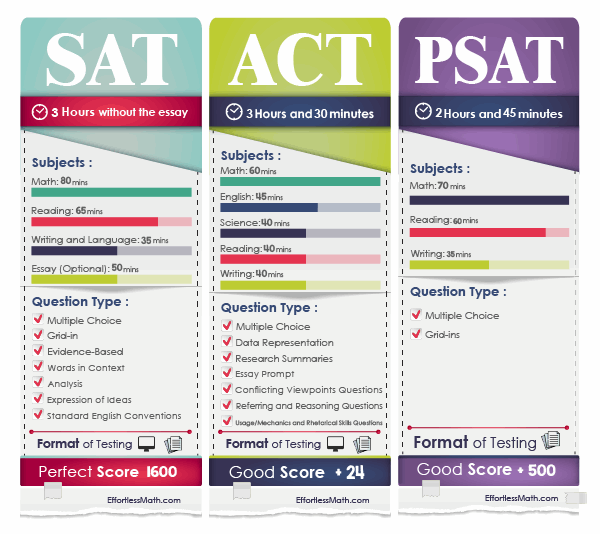 The Best Books to Ace the ACT Math Test