A Comprehensive Collection of FREE ACT Math Practice Tests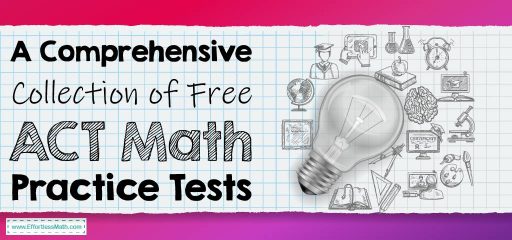 The ACT (American College Test) is a standard test for admissions and college placement decisions in the USA. It is designed to test students' mathematical skills and requires reasoning skills to solve problems. This test is about subjects you have learned through your senior year of high school.
The Absolute Best Book to Ace the ACT Math Test
The ACT is divided into 4 sections: English, Mathematics, Reading, and Science. The mathematics section of ACT contains:
It highly emphasizes Algebra 1 and 2 so it's better to take the test after you complete Algebra 2. This test includes 60 questions to be completed within 60 minutes.
All questions are multiple-choice with 5 answer selections, and they are arranged according to their difficulty. You won't lose points for wrong answers, so it is suggested not to leave a question blank.
Test-takers are allowed to use their calculator on the ACT math test. There is no formula sheet on the exam so you should know the basic formulas and computational skills by heart.
The range of scores on the ACT is from 1-36. The latest information shows the average score on ACT math is 20.5.
Take the online free practice test for ACT Math to determine which subject is easy for you to understand and which ones need more practice to learn fully.
Each ACT Math problem is related to the underlying concept that is being tested. You can use the results to change your study plan and focus on a particular area of need.
Whether you need great ACT Math tutors in Houston, ACT English tutors in San Francisco, or top ACT Math tutors in Atlanta, practicing some standard tests may take your studies to the next level.
Preparing for the ACT Math test can seem difficult, and the costs of preparing for and taking the test can increase, too. Fortunately, there are some free resources you can use in ACT prep.
Best ACT Math Prep Resource
10 Best Websites for ACT Math Practice Tests
1. EffortlessMath
EffortlessMath is a perfect and comprehensive collection of FREE ACT Mathematics worksheets that helps students in ACT Math preparation. EffortlessMath helps students understand their strengths and weaknesses.
This website also provides a review of the basics and goes over math concepts, and all that's expected to know where they should study more so they can do great in the ACT exam.
It can help you learn the essential math formulas before you sit down for the actual ACT. It is one of the best sources of free ACT practice tests available for students. Besides all those benefits, they have some really useful books on ACT math.
2. Crackacc
The purpose of this website is to help you pass the exam with a high score. They are mostly trying to provide free tests for each ACT subject as well as cover all ACT math topics completely.
Crackacc offers you a lot of great free questions which are classified by different topics. All of the questions include the corresponding answers and also a complete explanation. So, if you answer wrong, you can study the explanation and learn from it. They also introduce some good ACT books for more practice.
3. act.org
By signing up on this website, you will receive a free study guide, a full-length practice test, and helpful test-taking strategies. After taking the exam, they provide a full score report. They also send you free resources to improve in areas of need.
4. Mometrix
Mometrix Academy is a good resource for practice tests. They have created this website to help you find all the information you should know about the exam.
They have also provided links to the extensive library of practice ACT questions and free ACT review videos to help you prepare for this test. Watching these videos helps you be ready for the ACT and they will enable you to get the best score.
5. VeritasPrep
Preparing for a test and taking a test is not the same. It's people's right to benefit from learning a logical, realistic, structured method to prepare for important exams. Therefore, Veritasprep can help students to find knowledgeable tutors.
Varsity Tutors professionals know how busy high school students and their parents are, so they try to make all ACT prep services as convenient as possible. They also help students research their desired schools and find out the minimum score necessary for each.
6. Princetonereview
The ACT score might highly impact students' future so the role of getting access to good services is very important. This website contains private tutors to teach you according to their experience.
They try to teach the most effective methods to solve the questions. Princetonereview offers a variety of options for students to choose the one that fits their needs.
7. Prepscholar
Another helpful website for students is Prepscholar. Whether you have a tutor, take a class, or study by yourself, you always need official, printable ACT tests with answer keys. This website makes it easy for you to get access to the best of them.
The most interesting point is that these tests are in the exact format of the real test. They also prepare free guides and introduce perfect books to boost your ACT score.
8. Manhattanreview
If you need a website that covers all ACT topics and enables you to get access to free practice tests, manhattanreview is available for you. It categorizes the questions into different levels from easy to hard.
Moreover, it provides a full explanation for each question. There are several courses and tutoring that help you pass the test with a high score.
9. khan Academy
This website doesn't maintain any official ACT test prep, but it provides free lessons for a variety of subjects. It also contains universal testing strategies that help you solve the ACT questions.
If you take the practice tests and identify the area of need, khan Academy can provide extra resources to improve those subject areas.
10. Union Test Prep
One comprehensive and worthy website for the ACT is Union Test Prep. You can find all the essential information including how the exam is scored and what to do on a test day. It is a good resource for free practice tests as well as the ACT study guide and flashcards.
Additionally, there are some lesson plans for students, and you have a chance to study and discuss them with teachers and students.
The Most Effective ACT Math Crash Course
30 ACT Math Practice Test
The ACT Math Courses
Although we provide many free practice tests, students might need courses. A professional instructor can increase the speed of your learning, solve problems, and teach you how to get a high score on the test.
Nowadays online courses are available anytime and anywhere you are. Therefore, we try to introduce some useful free and paid courses.
Everything You Need to Ace the ACT Math Test!
Free ACT Math Courses
EfforthlessMath
You get access to the wide range of no-cost ACT math courses that cover all ACT math subjects via this highly helpful website.
It contains some useful worksheets, practice tests, exercises, and test-taking strategies to ace the ACT math test. They provide aid to review important subjects and basics, too.
Maybe you need some free courses on ACT math and you can find them on this website. It contains a free instruction video about ACT prep math tips, strategies, and question types to help you achieve the score you need.
This website provides a lot of free practice tests with a complete explanation to help you pass the ACT test. There are also useful free tutorials for the ACT exam. This section is divided into different subjects.
This online ACT math test prep course contains the exact tutoring and practice tests that you need to pass the test. The free courses are split into different subjects. It also has Pre-tests before every lesson to save you time on subjects you already know.
The Udemy website offers both types of courses; free and paid. They teach different subjects on the free ACT math course through videos. It helps you to learn how to increase the speed of solving problems.
Paid ACT Math
This website prepares the student for the ACT test through several paid courses besides the free ones.
There are some fun and helpful videos that will teach you all the information you need to get a better score.
They also have online ACT prep classes to teach you how to start, break down, and solve the most commonly asked question types on the ACT Math test.
They take a series of diagnostic quizzes to identify students' strengths and weaknesses. Then they help students with personalized study paths to work on their weakest areas and the most important subjects via courses. It contains game-like questions and experience points (XP) to track students' progress.
They provide several affordable online classes. They offer a score guarantee and extremely flexible self-paced courses. This website includes video lessons and explanations for each question.
There are over 1,300 practice questions. It also provides online help from expert ACT tutors.
One important thing when you want to prepare for a test is to have access to a variety of courses. Then, you can find the best one among the different options. Kaptest provides many helpful online courses with top-rated teachers.
If you want to level up your ACT math, this website can help you get access to online courses with study guides by subject. It also contains many written lessons, practice tests, and flashcards. It additionally has a mobile app to easily access all the above.
This website is a good resource for online math courses in pre-algebra, algebra, geometry, and more. Many self-paced video lessons are available to review ACT topics at any time that fits your schedule. Besides that, you can find some free practice tests there.
Getting access to an experienced teacher can speed up your learning process. This website provides ACT math courses to help you understand and solve the questions quickly, so it is highly recommended.
The Best ACT Study Guide For Comprehensive Review
Best ACT Math Books
Passing the ACT math test requires different ways of learning. There are several options available for students and each should choose the best one according to their personality. Lots of practice tests, tutorials, video lessons, study guides, and worksheets can be found online.
But the role of books is significant. Students can find many books for ACT math, however, if you have access to the best ones, it might more easily facilitate your learning. So, we decided to introduce some useful books to save you time and money.
The Perfect Prep Books for the ACT Math Test
Related to This Article