How long Is the ACT Test?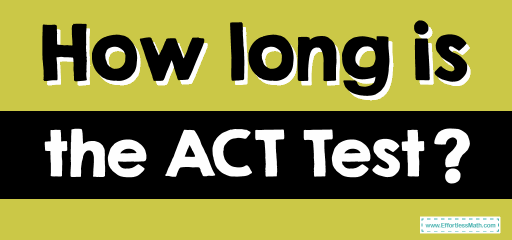 Are you one of the many college students planning to take the ACT? For those planning to take the ACT, an important question is: How long is the ACT? Join us to answer this question.
The Absolute Best Book to Ace the ACT Math Test
The ACT is a standardized test that measures student skills in five main areas: math, English, reading, science, and writing (optional). The total test time for the ACT without writing is 2 hours and 55 minutes and for the ACT with writing is 3 hours and 35 minutes. The breakdown of each section is as follows:
English: 45 minutes- 75 questions (36 seconds per question)
Math: 60 minutes- 60 questions ( 60 seconds per question)
Reading: 35 minutes- 40 questions- (52.5 seconds per question)
Science: 35 minutes- 40 questions (52.5 seconds per question)
Writing (optional): 40 minutes- 1 essay
If you take the ACT without writing, you will only have one break during the test. It is held after the math section and lasts ten minutes. You are not allowed to leave the building or use any electronic devices while you are allowed to use the restroom or have a snack during this time.
If you do ACT with writing, you will have an extra pause before the writing section. This break lasts 5 minutes.
This means that if you do ACT without writing, it will take approximately 3 hours and 5 minutes, including one break. If you take the ACT with writing, it takes about 3 hours and 50 minutes, including two breaks.
College Entrance Tests
The Best Books to Ace the ACT Math Test
More from Effortless Math …
Are you looking for a FREE ACT Math course to help you prepare for your test?
Check out our Ultimate ACT Math Course.
Need Math worksheets to help you measure your exam readiness for your upcoming ACT test?
Have a look at our comprehensive ACT Math Worksheets to help you practice and prepare for the ACT Math test.
Want to review the most common ACT Math formula?
Here is our complete list of ACT Math formulas.
Looking for FREE ACT Math websites to find free online resources?
Here is our complete list of Top 10 Free Websites for ACT Math Preparation.
Need a practice test to help you improve your ACT Math score?
Have a look at our Full-Length ACT Math Practice Test and Free ACT Math Practice Test.
Do you know the key differences between SAT Math and ACT Math?
Find your answer here: SAT Math vs. ACT Math: the key differences.
The Perfect Prep Books for the ACT Math Test
Have any questions about the ACT Test?
Write your questions about the ACT or any other topics below and we'll reply!
Related to This Article