GRE Math Worksheets: FREE & Printable – Your Ultimate Preparation Tool!
Looking for FREE printable GRE Math worksheets to help you or your students ace the quantitative section of the GRE test? You've just hit the jackpot because you're in the right space!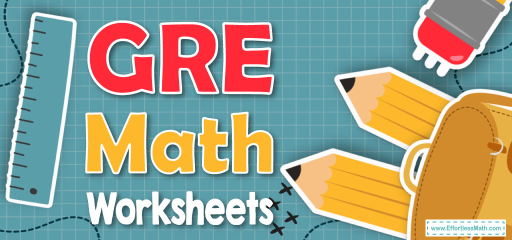 We're excited to present a comprehensive collection of FREE downloadable PDF Math worksheets covering all GRE Math topics. This meticulously curated set of resources is perfect for anyone aiming to solidify their math skills in preparation for the GRE. Whether you're just starting your GRE journey or looking to brush up on specific topics, these worksheets are here to make your prep smoother and more effective.
Our GRE Math worksheets are crafted with the aim of helping your students succeed on the test day. They dive deep into every topic that the GRE Math section explores, offering practice questions that reflect the style and difficulty of the real exam. From algebra, arithmetic, and geometry to data analysis and beyond, we've got all bases covered!
This collection is not just vast; it's a well-rounded compilation of everything GRE Math that a test taker needs to master before the big day. They're designed to challenge you, build your confidence, and ensure you're test-ready. Just download our free Math worksheets for GRE Mathematics and get a step closer to achieving your dream score!
Hope you find these resources invaluable!
A Perfect Practice Workbook for Algebra I
Happy studying, and here's to conquering the GRE Math with confidence!
IMPORTANT: COPYRIGHT TERMS: These worksheets are for personal use. Worksheets may not be uploaded to the internet, including classroom/personal websites or network drives. You can download the worksheets and print as many as you need. You can distribute the printed copies to your students, teachers, tutors, and friends.
You Do NOT have permission to send these worksheets to anyone in any way (via email, text messages, or other ways). They MUST download the worksheets themselves. You can send the address of this page to your students, tutors, friends, etc.
GRE Math Topics
Fractions and Decimals
Real Numbers and Integers
Proportions, Ratios, and Percent
Algebraic Expressions
Equations and Inequalities
Linear Functions
The Best Books to Ace Algebra
Exponents and Radicals
Polynomials
Geometry and Solid Figures
Statistics and Probability
Quadratic
Functions
Related to This Article