Top 10 Tips You MUST Know to Retake the TSI Math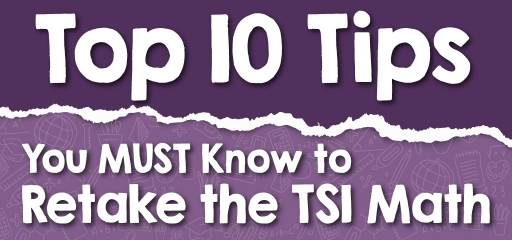 If you are not satisfied with your score, you can retake the TSI test. However, it is strongly recommended that you take the time to read more before retesting. It is very unlikely that your score will improve much without further study. Usually, you cannot retest on the same day as the initial test.
Now the main question is what you should do to avoid TSI failure again? By following the tips provided here, you can overcome all the barriers to passing the TSI math test. So join us!
The Absolute Best Book to Ace the TSI Math Test
1- Take a break
It is normal to feel frustrated when you do not get the TSI you want. Although you allow your emotions to dominate you in such situations, it probably keeps you from thinking logically. Take a step back. Allow yourself to calm down and share your feelings with friends and family. Helps you relieve stress and better realize your situation.
2- Review your test result
As soon as you let go of bad feelings and get some rest, you can better focus on your mistakes. Look at your TSI score and think about why you did poorly and what you can do to prevent these problems this time. Did you wait too long to start studying TSI math? You can think about how to solve these problems and retake your points for the second time.
3- Try different methods of studying math
If your previous TSI math study method did not work, you may want to try a newer program. For example, you can use TSI math preparation books that you have not read before. This time you can also use online resources for better learning of TSI math.
4- Study with regular hours
Regular reading of TSI math helps you to constantly improve your grades. Be sure to follow your math study plan and know that following it is the key to success.
5- Take many practice tests
One of the most important things you can do to pass the TSI math test is practice a lot. In fact, the more you practice, the more likely you are to pass the TSI math test. Try many practice tests, and try to understand each math question, and do not skip it without carefully examining the question.
Best TSI Math Prep Resource for 2022
6- Improve your weaknesses
Adjust your TSI study schedule to focus more on math topics that you have not worked on very well. With a lot of studies, you can increase your TSI score. There are many useful tips for each section, so be sure to use them and upgrade your points. And the other important point is that you should not give up your strengths and be sure to practice the topics in which you are strong.
7- Find a study group
Sometimes studying math alone is very difficult, and study groups can help you motivate and progress. If you are improving points and have hit the wall, do not be afraid to seek help from your peers. You are probably not the only one choosing TSI math in your class, so take advantage of this and join a study group with your other classmates.
8- Quitting habits that led to failure in TSI
Maybe it is time to revise your habits. If you spend a lot of time with others, limit your time with them. You may need to spend more time studying TSI math. Or if you do not have a TSI study plan, it is better to plan.
9- Stick to your study plan
Remember that the most important part of TSI retake is the commitment to study math at regular intervals. Do not leave your review until the last few days before the TSI math time. It is not a problem if you sometimes miss study sessions because you are committed to the overall structure of your program.
10- Take care of yourself
Health care is very important and should be considered during the TSI retake program. You can spend many hours studying for TSI math, but you should eat well, exercise, and sleep enough. These steps will help you focus more as you prepare for TSI math.
From the above strategies and tips, it can be concluded that you should not let a bad test lower your self-esteem. No exam is so difficult that you cannot succeed with enough effort. Always keep in mind that if others have passed the TSI math test, you can too.
The Best Books to Ace the TSI Math Test
More from Effortless Math for TSI Test …
Would you like to know more about TSI test day?
Review our guide for the TSI Math-Test Day Tips.
Do you know the best math preparation books for the TSI Math exam?
Here is the information you need! Just review the Top 10 TSI Math Prep Books.
Please check The Ultimate TSI Math Course because we have paved the golden way to achieve your dreams by providing it!
The Perfect Prep Books for the TSI Math Test
Have any questions about the TSI Test?
Write your questions about the TSI or any other topics below and we'll reply!
Related to This Article